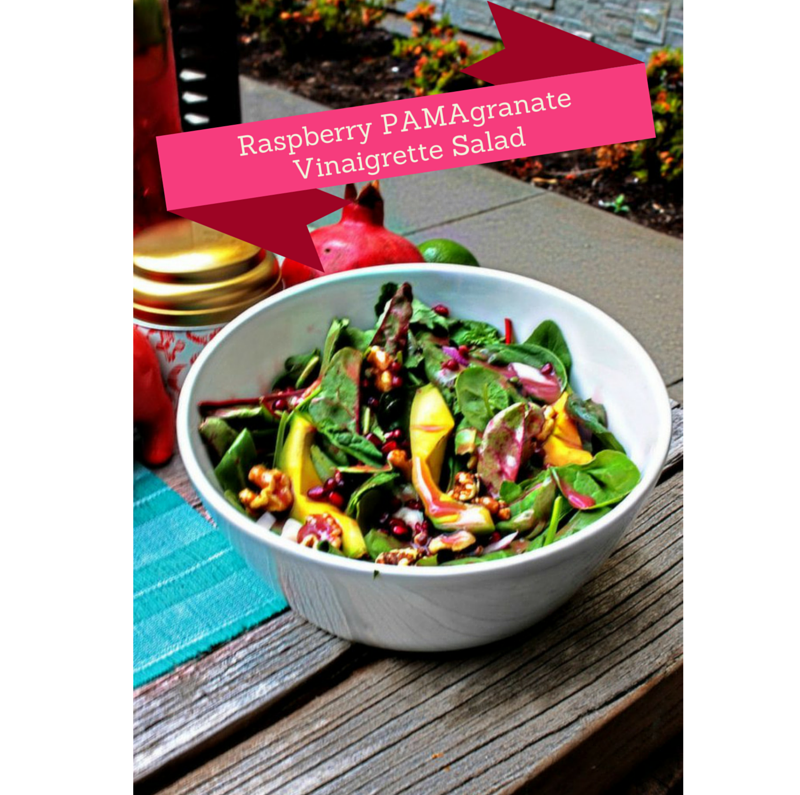 Hey Lovelies! We are back today with another awesome recipe from our Summer Celebration Party and today is a super yummy Raspberry Pomegranate Vinaigrette! This salad dressing is packed with flavor and is the perfect bite on a mid summer night! Tangy and sweet, it has a great balance of raspberry and pomegranate taste. We can't wait to share this fun and easy salad that we know you will gobble up!
For The Salad
4 cups mixed greens
1/2 an avocado-sliced
1/2 cup walnuts
1/4 cup sliced of red onion
Handful of pomegranate seeds
Put greens in a bowl, top with avocado slices, onions, and red onion. Mix well. Then add pomegranate seeds to add a bit of crunch and a sweet yet tangy flavor.
For The Dressing
1 cup pomegranate seeds
1 cup raspberry seeds
2 tablespoons lemon juice
3 tablespoons PAMA liqueur
3 garlic cloves, smashed
1 tsp dry mustard powder
1/4 teaspoon salt
2 tablespoons red wine vinegar
1/2 teaspoon pepper
1/2 cup olive oil
Instructions
Add 1 cup pomegranate seeds, 1 cup of raspberries lemon juice, PAMA, garlic, mustard powder, honey, salt, vinegar, and pepper to a food processor, process until smooth. Strain out the seeds, returning liquid to the food processor. Turn the food processor on high, adding the olive oil in a slow steady stream until well combined. Store in an airtight container until ready to use. (Stores For Up up to 1 week.) Drizzle on top of greens and enjoy!
This raspberry pomegranate vinaigrette salad would be perfect with grilled chicken or shrimp too!