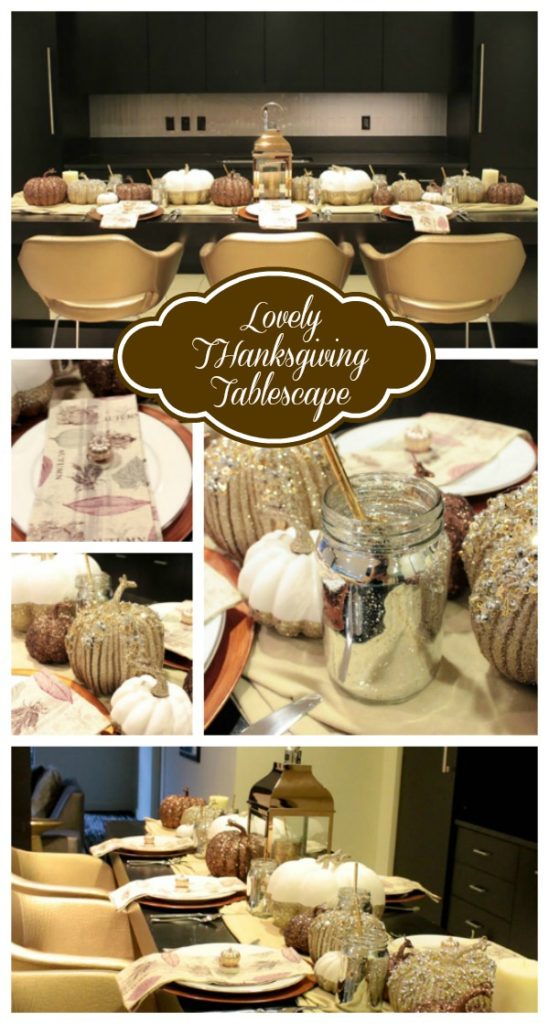 Hey, Lovelies! We have the perfect Thanksgiving tablescape for you today that we styled and is absolutely gorgeous. It truly embraces everything about this season. If you love glitter, gold, and metallic, then this fall Thanksgiving tablescape is for you! Jo-Ann Fabric and Craft Stores has some amazing fall décor like these striking glittered pumpkins and copper lanterns in their stores and together they make a beautiful tablescape that you can use for a lovely dinner party, a festive Thanksgiving, fall engagement party or stunning table at a wedding. We'll show you how to put it together and give you lots of eye candy along the way!
Lovely Metallic Sparkly Thanksgiving Tablescape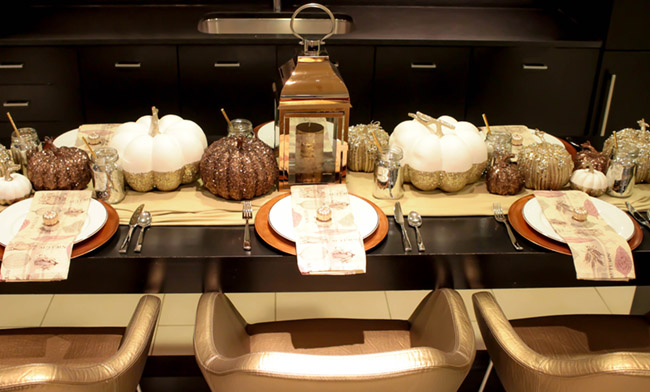 We wanted to bring warmth and cozy textures to the table and this beige suede fabric was exactly what we were looking for. It is so soft and instantly brings that comfy feeling to the table. It is the perfect runner for this fall tablescape.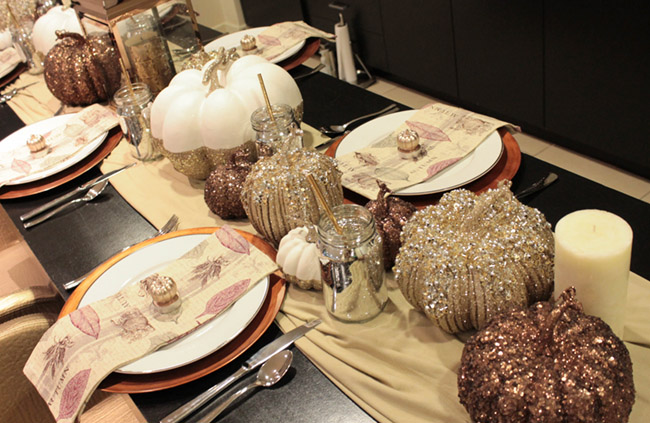 For the main centerpiece, weused this beautiful metallic copper lantern. It sets the tone and the color palette for the whole table. Again, it brings that warm and cozy feeling to this table and the shiny metal copper brings in the elegance and sparkle to make the table chic.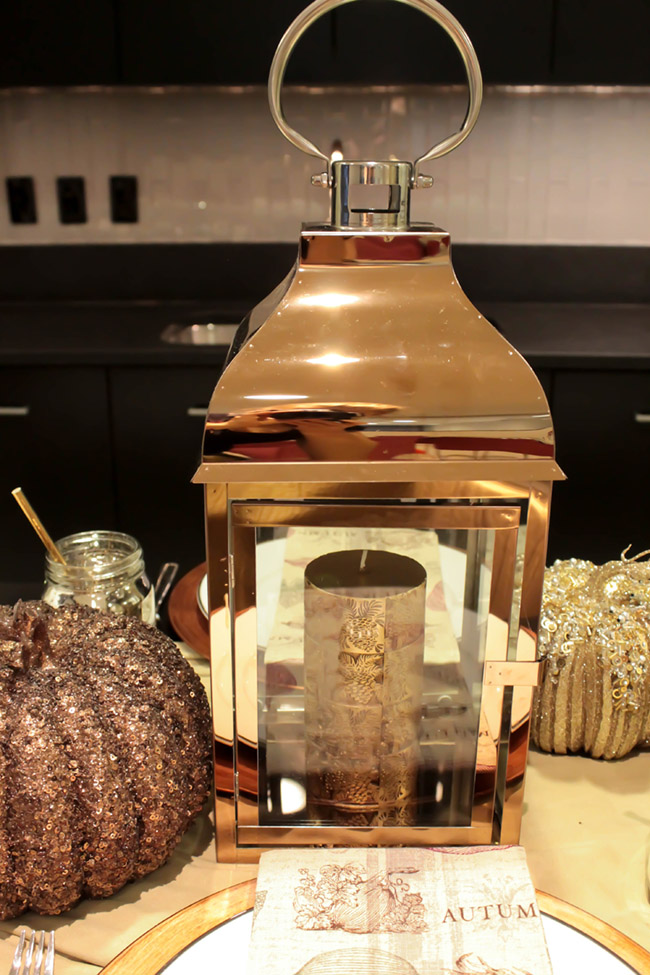 If you can see inside the lantern, there is the gorgeous pinecone debossed gold candle that really brings that fall element to the table.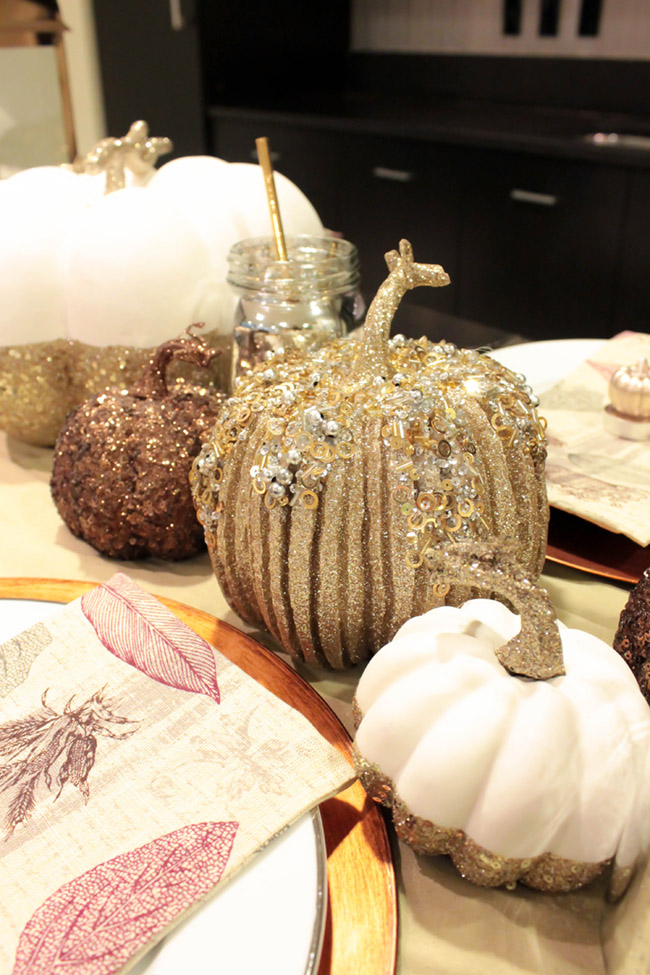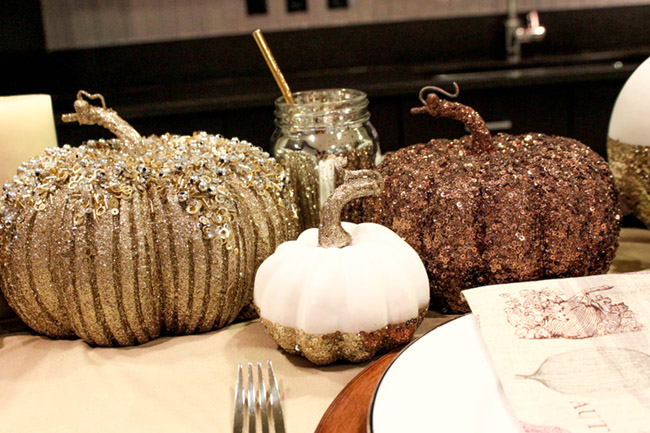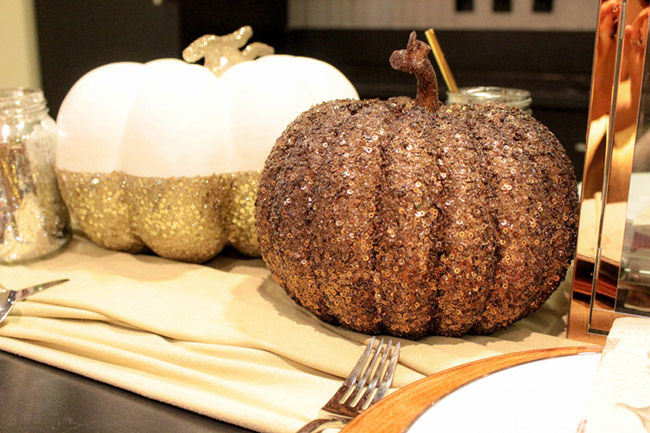 To really make a statement, get these glitter and sparkle sequin pumpkins in all different sizes and metallic colors like copper, gold, and silver. They are seriously lovely in every way and make a perfect show stopper, running all the way down your table. WE just can't get enough of their loveliness!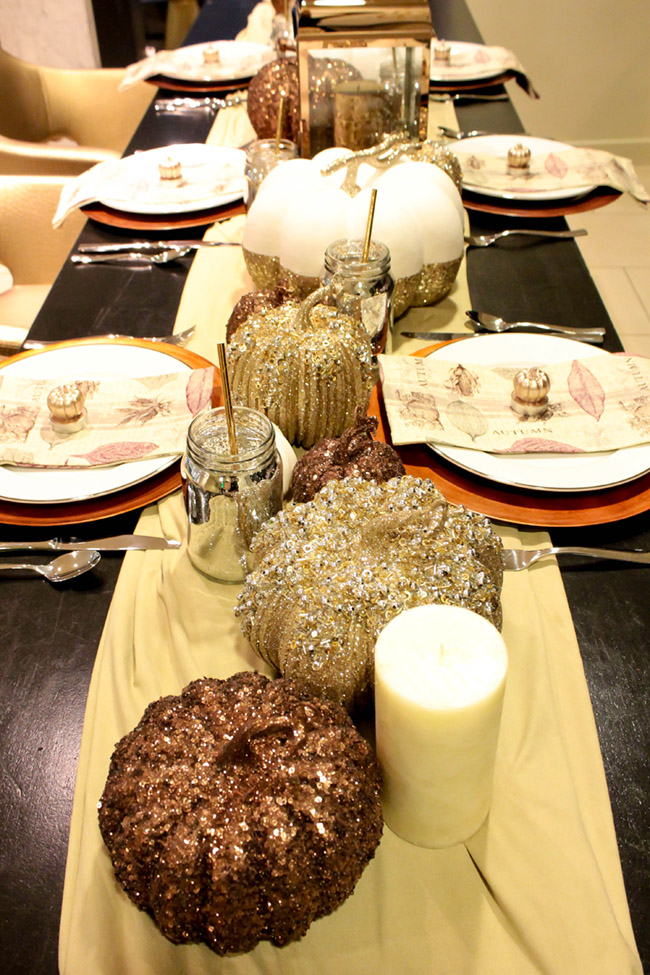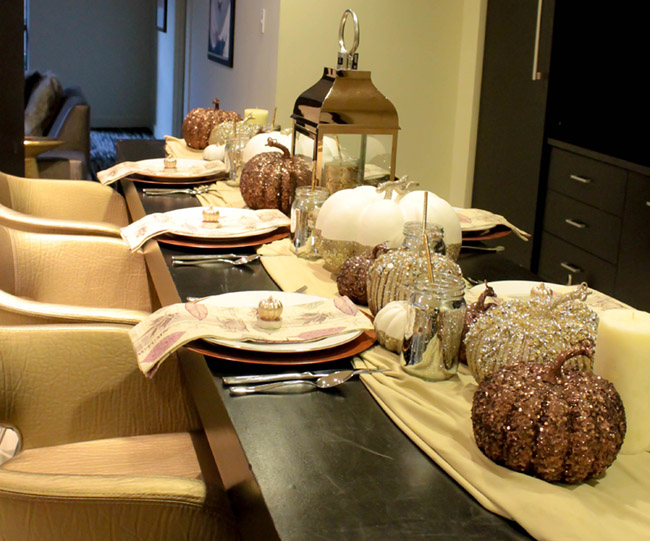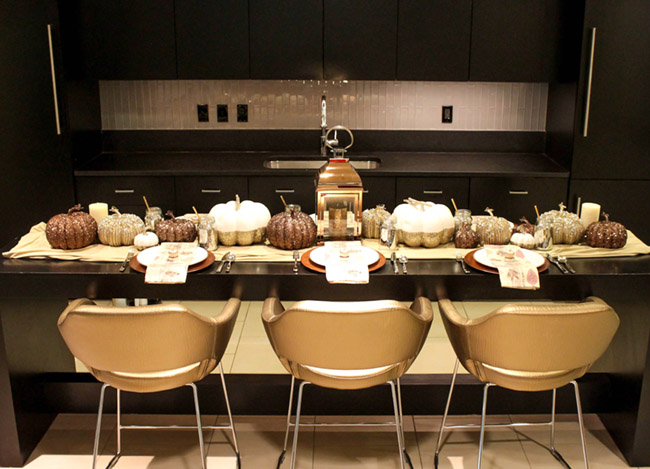 For the place settings, pick up these lovely bronze glazed charger plates. They are this beautiful tone of shimmery brown that really represents falls' beauty. Then get these amazing linen autumn napkins and place them on an ivory or white plate. These silver rimmed plates tie in so well with this look too.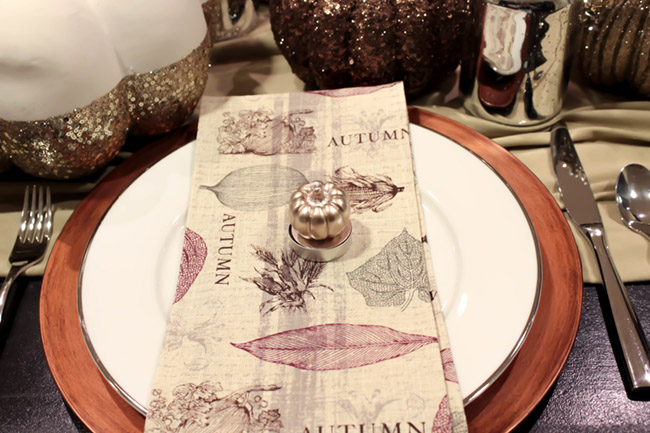 Finish off the look these cute gold pumpkin candles that would double as a place card holder but just by themselves add a little flair to each guest's seat.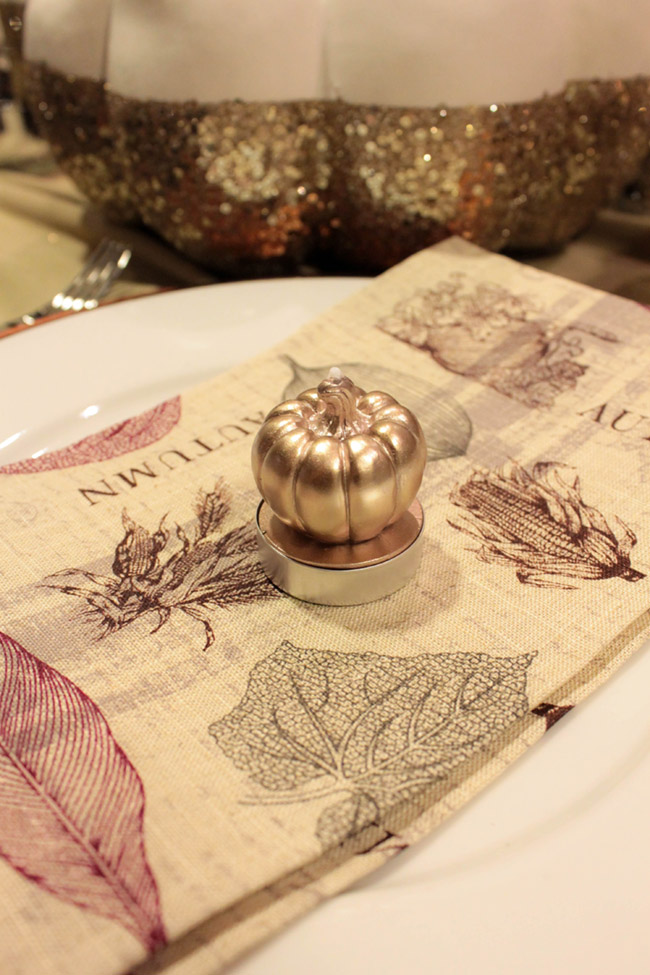 Finish off the place settings with these lovely silver mercury glass mason jars. They coordinate so well with the sequin glittery pumpkins and bring that extra little shine to this table. The gold metallic straws (available in-stores) in these are the perfect finishing touch.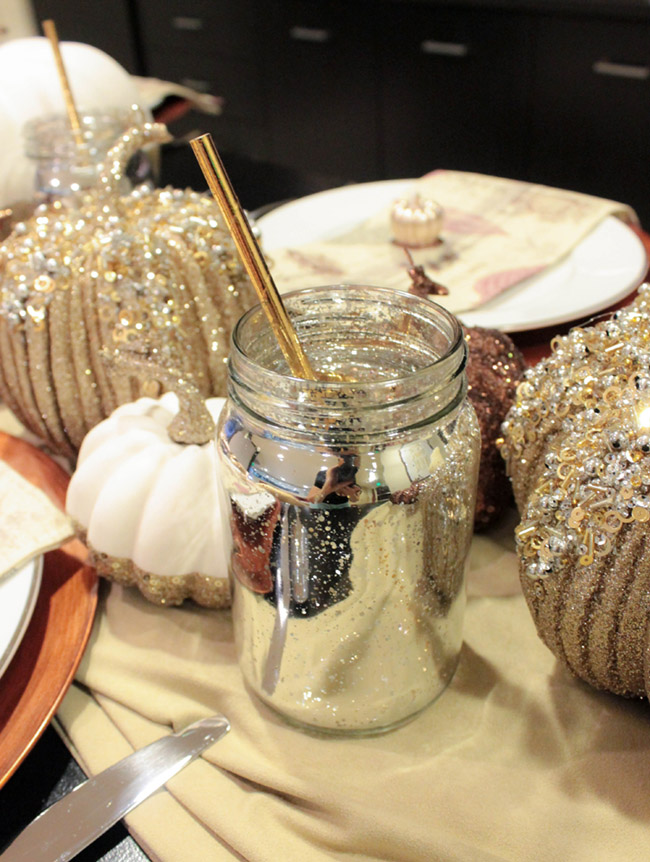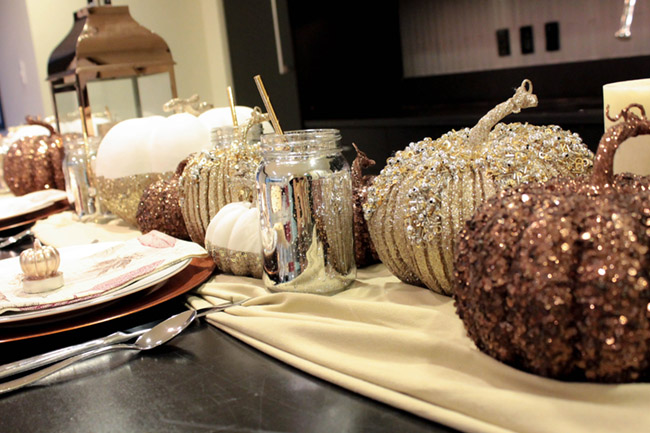 And there you go! With just a few décor pieces, you can set up this stunning fall tablescape in minutes! We love everything about the warm and chic look of this table and can't wait to set it up for this year's Thanksgiving and fall dinner parties!