This shop has been compensated by Collective Bias, Inc. and the Coca-Cola Company. All opinions are mine alone. #TailgateRefreshed #CollectiveBias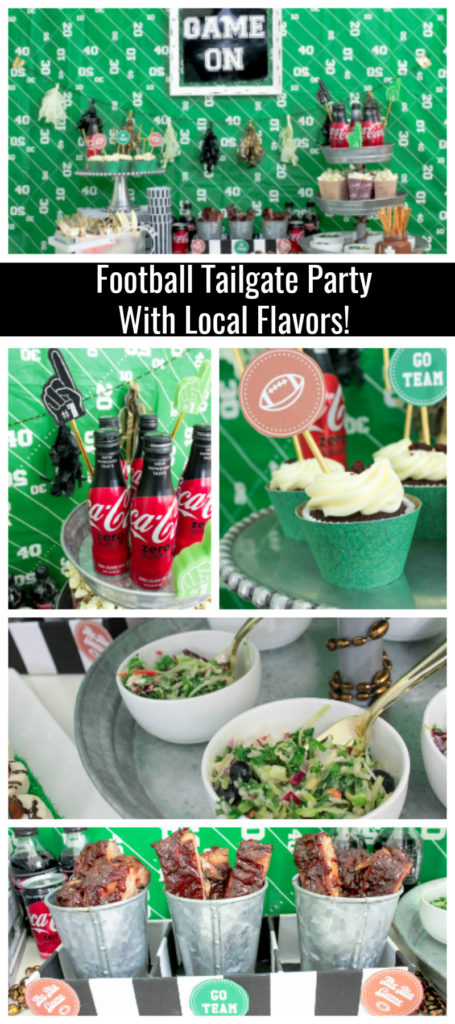 Hey Lovelies! Are you obsessed with football as much as we are? Now that it is fall, we are so excited to watch the games on Sundays. Football also means tailgating and football parties in this house, because you know us, we can never turn down an occasion to throw a party to celebrate! There are some really lovely things you can do with football parties and we are so excited to be working with The Coca-Cola Company to bring you some fresh ideas and 2 recipes that showcase what our favorite Oregon flavors we love to bring to the big game. These will definitely make your football party the talk of the town. Prepare for some eye candy Lovelies!
Football parties and COCA-COLA go together like peanut butter and jelly. You really can't have one without the other! It's refreshing and a prefect go to during the game. Plus, it pairs well with all of the best football party eats like nachos, chips and dips, wings, burgers and our personal favorite, ribs!
With the new COCA-COLA® ZERO SUGAR, you can bring the unique bold flavor of COCA-COLA to your football party, but skip the calories and the sugar. The new COCA-COLA® ZERO SUGAR has more real Coca-Cola® flavor, still without any sugar. You can get the favorite flavor of COCA-COLA without having to worry about anything.
There are so many great recipes you can do with COKE ZERO SUGAR and today we did our own local take on our favorite game time eat, ribs!
We stopped at our local Safeway to pick up the COKE ZERO SUGAR and a few local, grown in Oregon ingredients to refresh and spice up a few of the football classics.
COKE ZERO SUGAR was pretty easy to find at Safeway, just look for the soda isle! Safeway always does a really great job of organizing their aisles so it was great to find all of the beverages all together.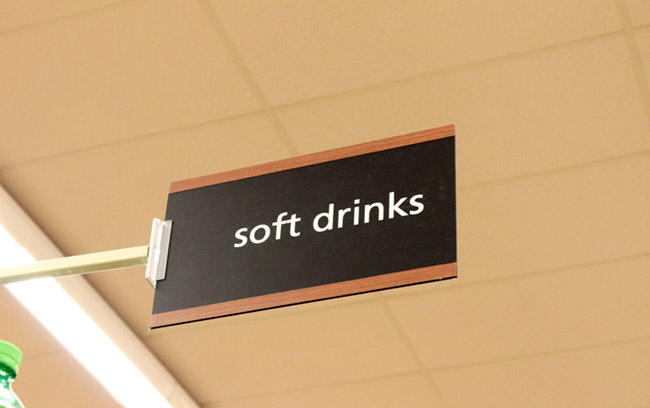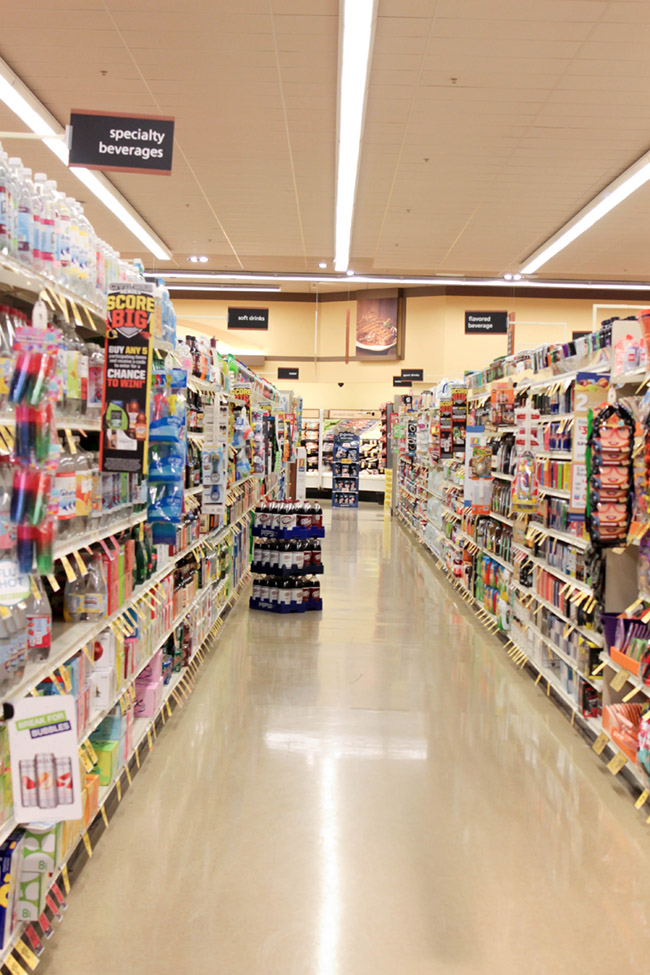 The new cans for COKE ZERO SUGAR are easy to spot too because they have a bold full red design highlighted with black. They come in all sorts of sizes too. You can choose from 2 Ltrs, 20oz, 1.25L, 6pk 8oz glass, imports, aluminum and mini cans.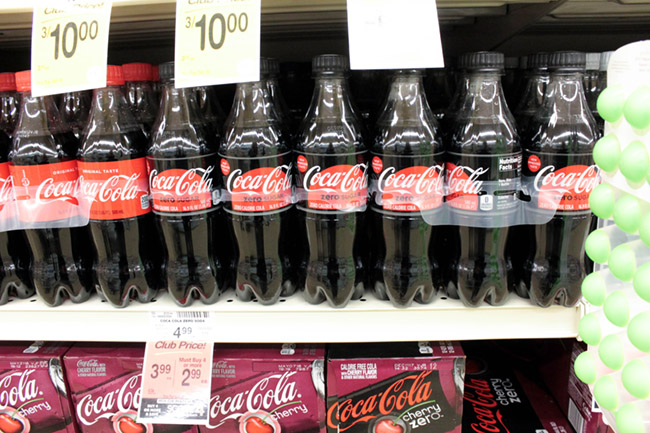 We planned two locally inspired game time eats that tailgaters will love to dig into before the football game.One of the things we love about Oregon is all of the farms that it has. With so many farms, you can always get great produce year round! In season right now are Oregon cherries as well as brussels sprouts, kale and radishes. Pick at the peak of freshness, you won't find a better flavor for these than anywhere else. These ingredients make for the prefect ribs and slaw that will have fans coming back for more and more at your football game. The recipes are easy too so you can do them the day of the game if you want. They also hold up really well in the fridge so the day before prepping can be done too!
COCA-COLA® ZERO SUGAR & Cherries Ribs
Our all-time favorite recipe for tender, delicious, perfect game time ribs is Coca-Cola Ribs, which are juicy ribs marinated in COKE ZERO SUGAR which gives them an amazing consistency and an even more amazing taste. We added dried Oregon cherries to this recipe to bring a little added sweetness to the spice. Plus cherries pair so well with COCA-COLA! Cherries are one of our favorite Oregon flavors and if you missed their peak season or you are in the heart of it, you can always preserve their amazing flavor as dried cherries. That way you can use them throughout the year. We utilized dried cherries in this recipe and it turned out perfectly!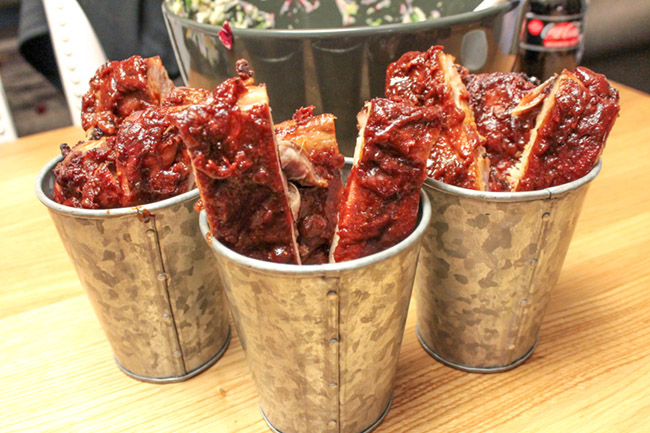 INGREDIENTS
4 lbs Pork Ribs
3 cups COCA-COLA ZERO SUGAR
3 cups Ketchup
1/2 cup dried Oregon Cherries
1 cup Packed Dark Brown Sugar
6 tablespoons Chili Powder
4 tablespoons Ground black pepper
2 tablespoons Dry mustard
1 tablespoons Ground cinnamon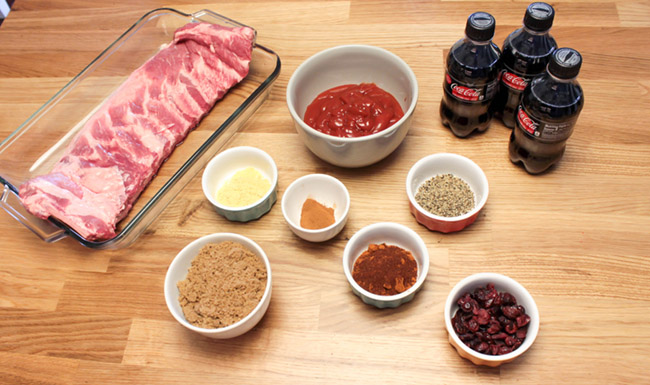 INSTRUCTIONS
Transfer the ribs to a large non-reactive glass or ceramic dish pour 2 cups of COCA-COLA ZERO SUGAR. Reserve the third cup of the soda for a sauce to be made later. Add in 1/4 cup of cherries to the soda as well as on top of the ribs. Let the ribs marinate, tightly covered with plastic wrap and refrigerated, overnight.
Pour the remaining 1 cup of soda into a blender and add the ketchup, brown sugar, chili powder, pepper, dry mustard, cinnamon & rest of the dried Oregon cherries into the processor. Mix until smooth and well blended.
Put the ribs in a roasting pan that has been coated with cooking spray, brush with the sauce, and roast covered in a 225 oven for about 2 1/2 hours until very tender.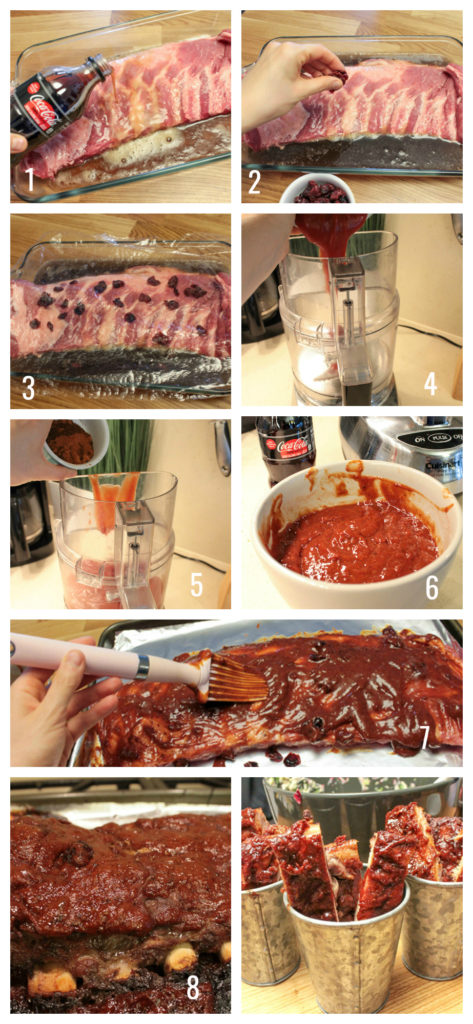 Local Oregon Brussels Sprout, Kale & Raddish Slaw
Nothing goes better with ribs than slaw in our opinion so we knew we wanted to whip up something special and local to go with our local Oregon cherry COCA-COLA ZERO SUGAR ribs. Being early fall, there are a lot of fruits and veggies still in season that are locally grown. Some of our favorites that we pick up at the Farmer's Market are brussels sprouts, kale, radishes and blueberries. These together make a wonderful framework for an amazing coleslaw that has just the right amount of crunch, and sweet, all blended wonderfully with a light coleslaw dressing.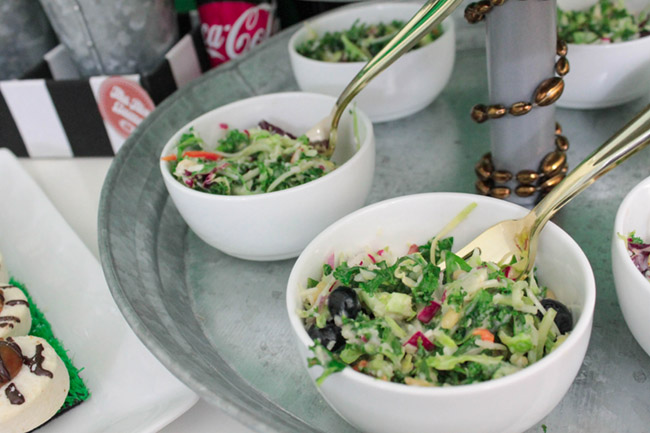 INGREDIENTS
2 cups Oregon brussels sprouts
1 large bunch Oregon kale, without the central stem
1 small shallot, peeled
2-3 Oregon radishes
1/4 cup of Oregon blueberries
1/2 cup toasted pine nuts
1/4 cup Parmesan cheese, grated
1 jar of your favorite coleslaw dressing
INSTRUCTIONS
Grate/shave the brussels sprouts & radishes. Put them in a large mixing bowl. To get bigger shreds of the brussels & the radishes, you can also add in a few hand chopped ones as well.
Chop the Kale into shreds and add them to the large mixing bowl.
Sliver the shallot and add it to the bowl.
Add in the pine nuts & Parmesan cheese to the bowl.
Mix in the coleslaw dressing, mixing all of the local ingredients together.
Finish with blueberries and gently mix in with the rest of the slaw.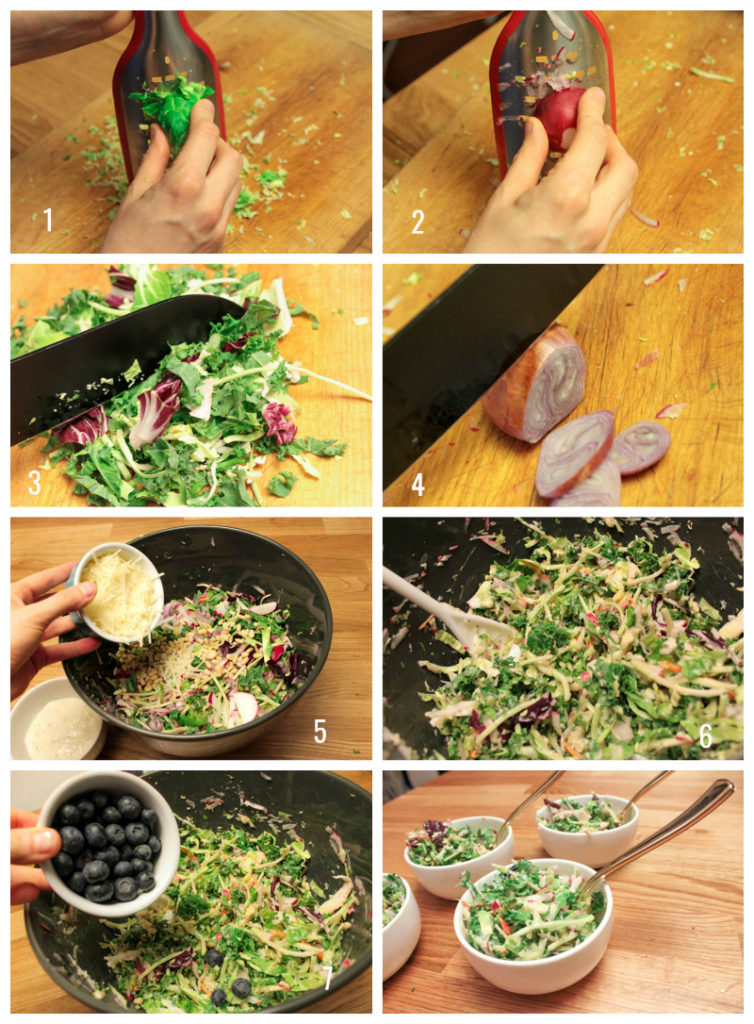 Football Tailgate Party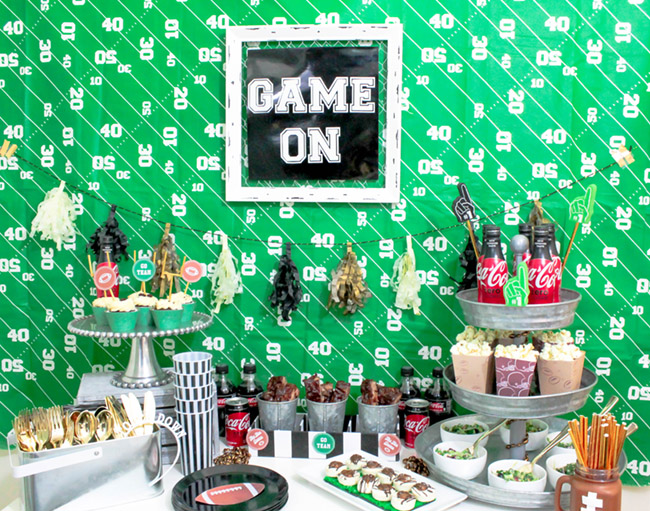 Once you have those both made, you can put your tailgate football party together! It is helpful to plan at least a week ahead and decide on how many people you are inviting for your game viewing party so you will know how much food and drink you will need.
Be sure to make time to plan your menu ahead and do some food and decor shopping in advance. Your local party store or shops online always have the cutest things typically year round but especially in fall so grab what tickles your fancy and to use at your football party.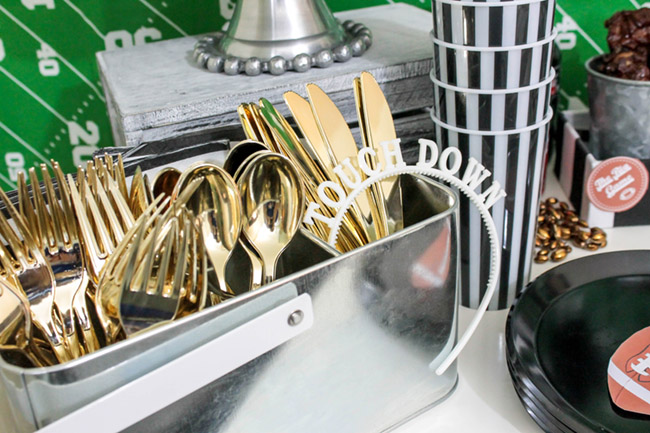 Galvanized anything works WONDERS at a football party so we have stocked up on anything galvanized we can get like trays, cake stands, plates, even utensil holders! Gold is also a great accent to the metal and keeps your party neutral so you don't have too many football fan fights over your football party. The green of the field is also something to highlight at your party. It's iconic so it stands out wherever you put it, and it complements almost any football theme.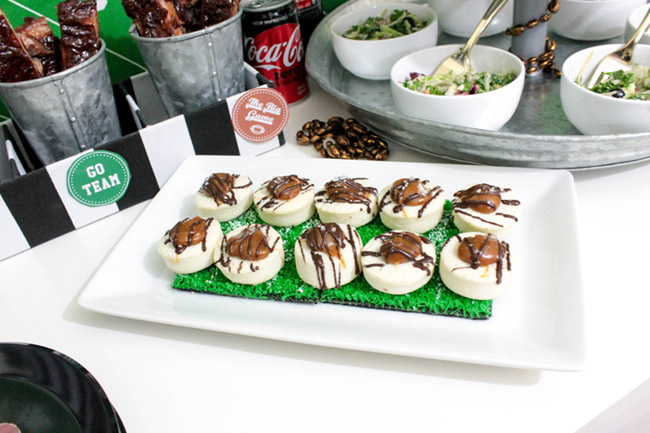 Make foods that are easy and portable. Food your guests can easily grab and go back to watching the game like the ribs and the coleslaw we made. It is also a good idea to include treats to satisfy people's sweet tooth like cookies and cupcakes. They are easy to set out and we have found, people will always take on throughout the game!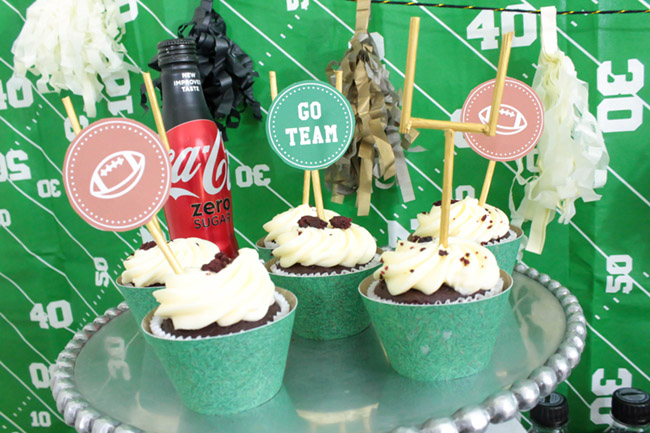 Cupcake wrappers and toppers can lovely up your cupcakes, even store bought ones! You can find free football printable throughout the net or on Etsy so you can add fun football details to your eats and throughout your party. We love the little field goal toppers we made! They are made out of kabob skewers but straws would work too. All you need is a little hot glue and some paint and you have a cute little field goal in no time!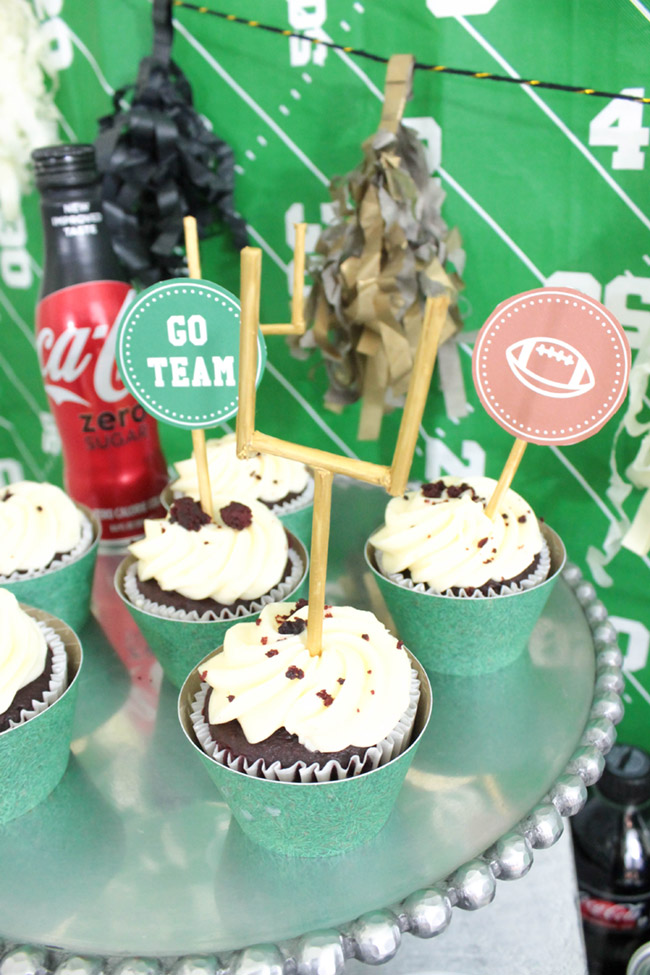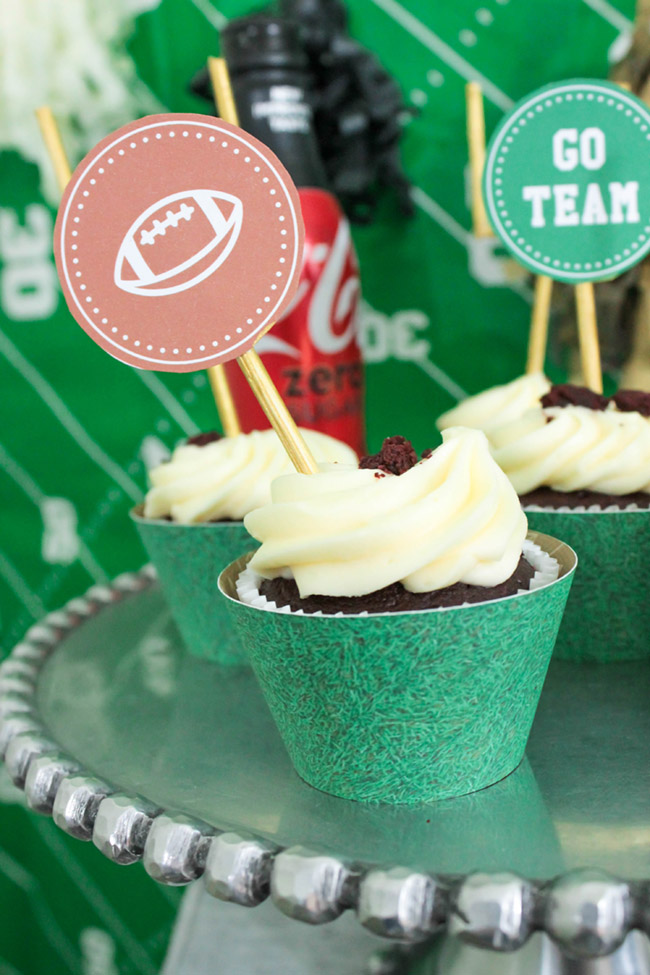 Of course COKE ZERO SUGAR can be the highlight of your football party too! The cans are so cute, you can use them as decoration almost anywhere on your football table. They are a great double duty detail because fan can grab and go as they please throughout the game too. Dress them up with fun fan gear like these foam fingers to really get them in the game!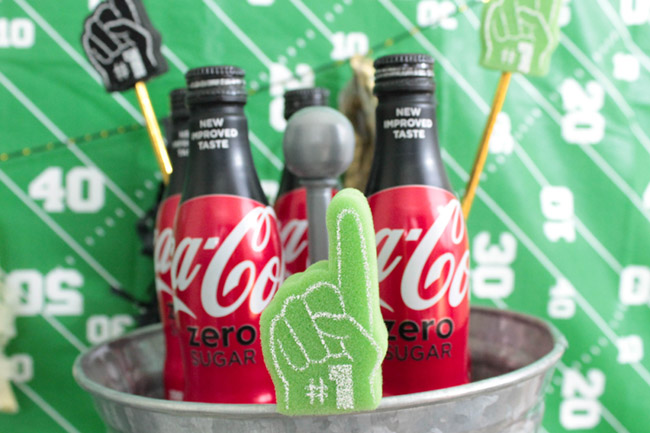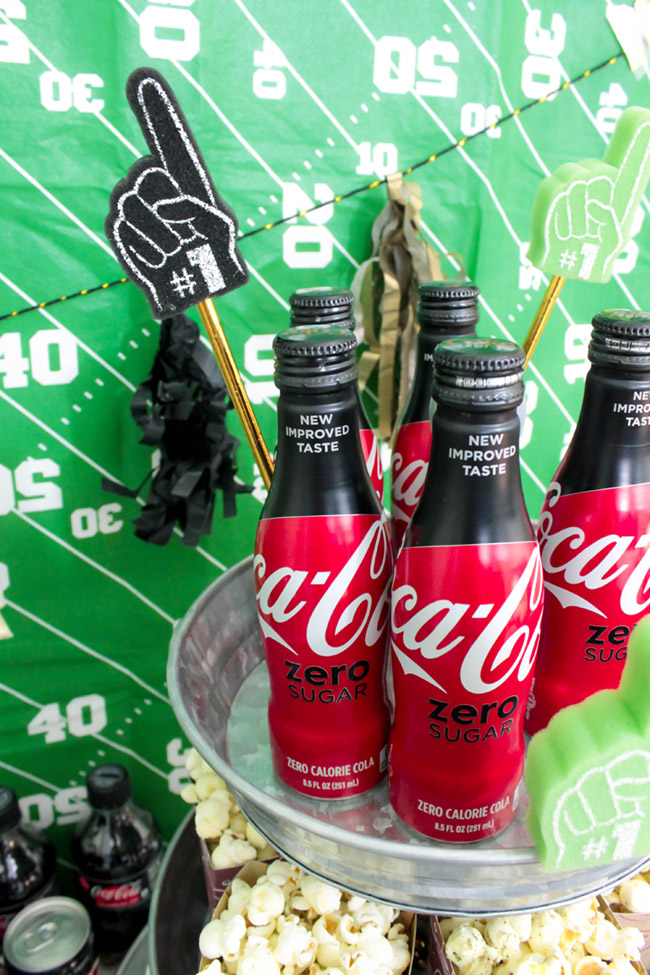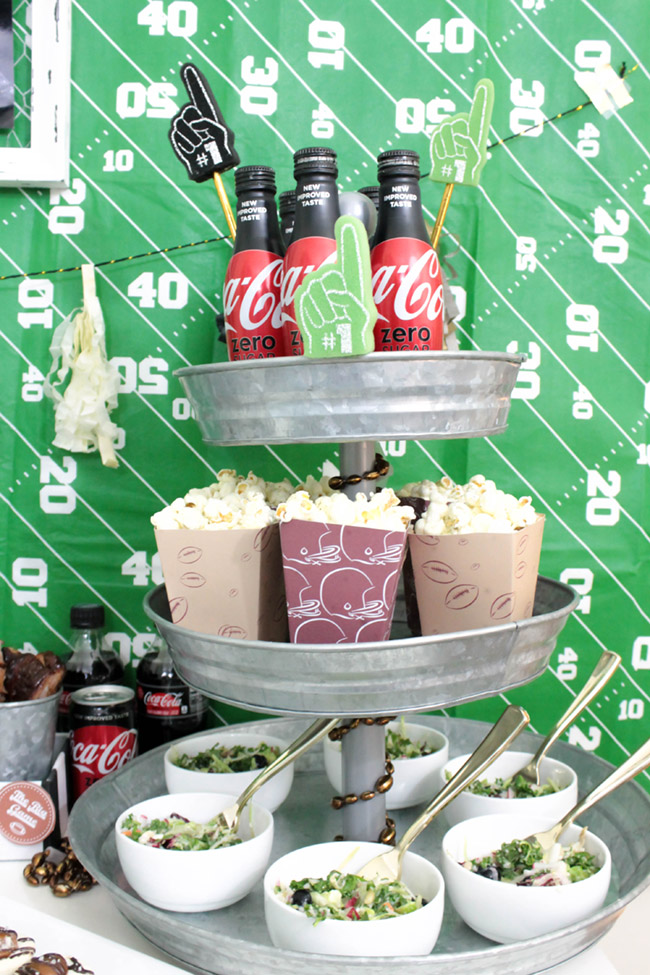 Popcorn is another great option for a grab and go treat for a football party. We made these fun football containers from this free printable template we found from Design, Eat, Repeat. The project is really simple. Just find your favorite football paper to print, print it on some heavy card stock paper, use the template to trace cut lines, and then just cut and glue!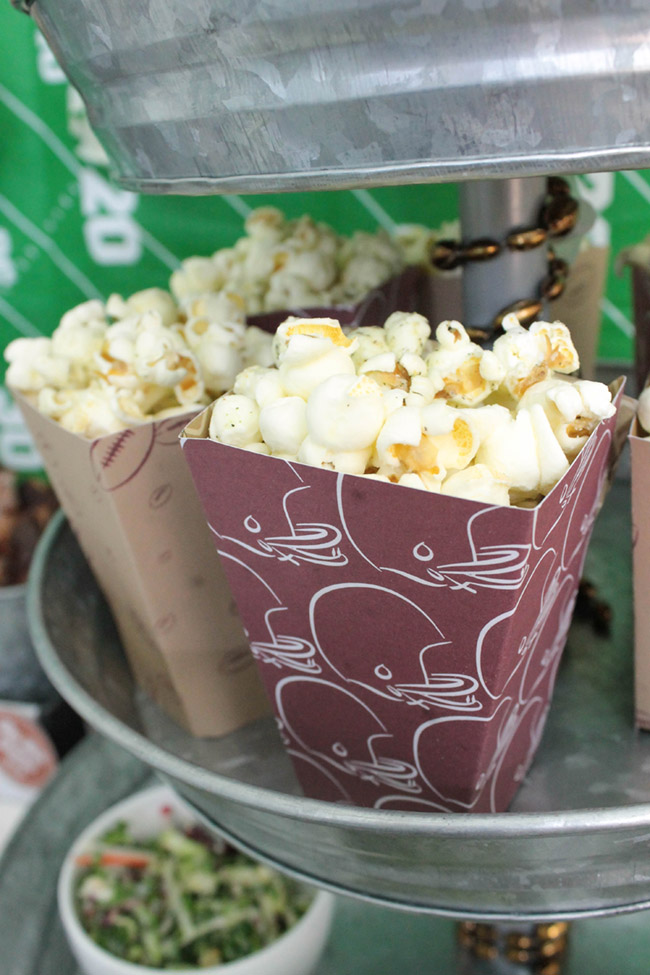 We also displayed our COKE ZERO SUGAR ribs in these galvanized bowls so fans could grab as many as they want to add to their plate. It's a fun way to display the ribs and makes it easy to grab the ends of them too! They look so juicy and flavorful with that sauce we created. We want to see some right now!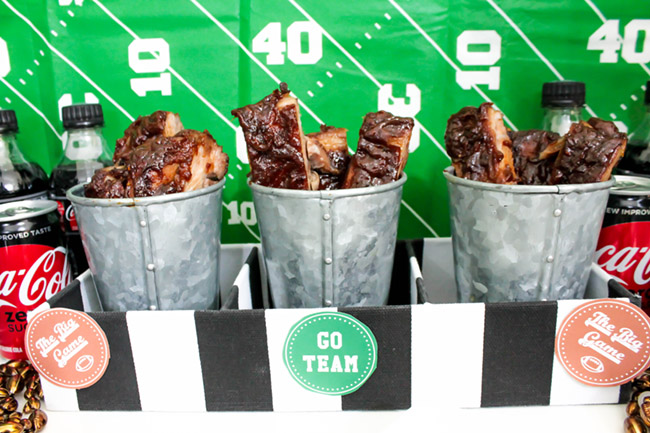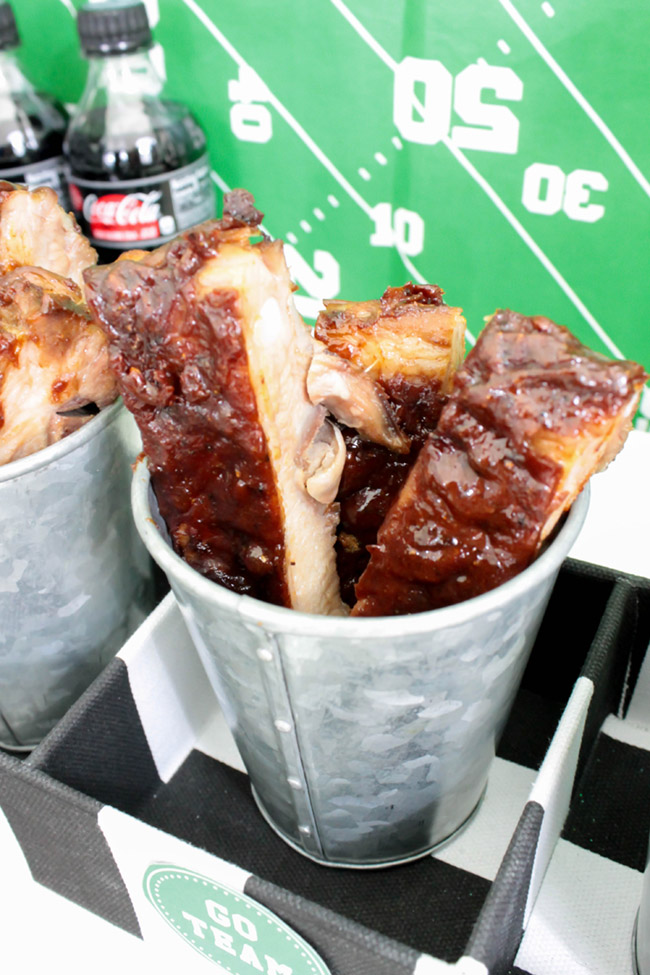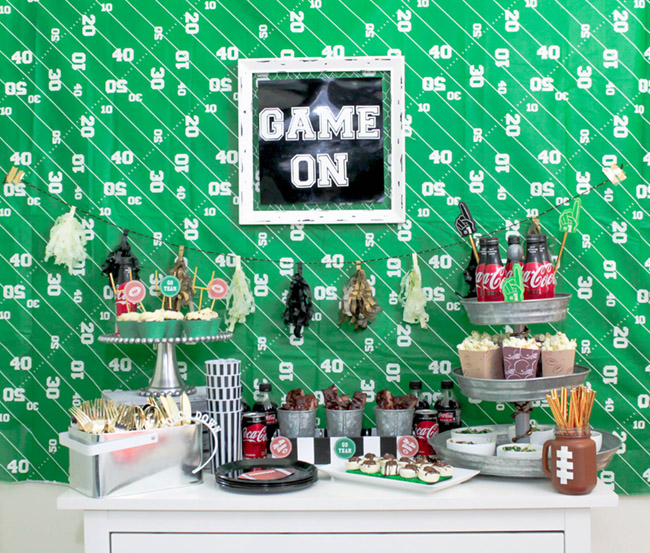 For the slaw, we used small bowls with forks that are the perfect portion size to help display them on our table. Tailgaters can just add them to their plate and start grubbing as soon as they get to their seat. We love this display because it brings a little sophistication to your football party decor.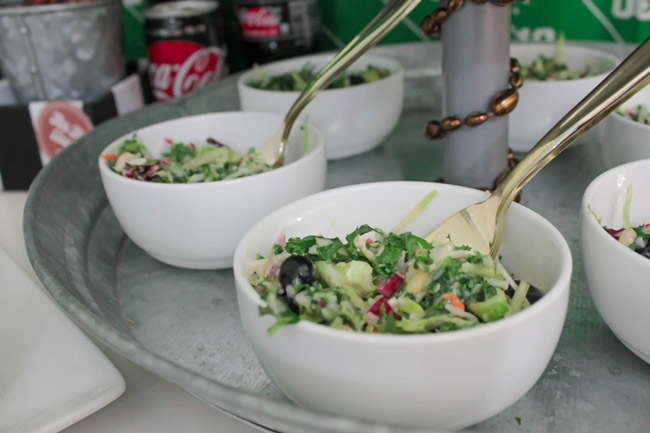 It all came together so nicely!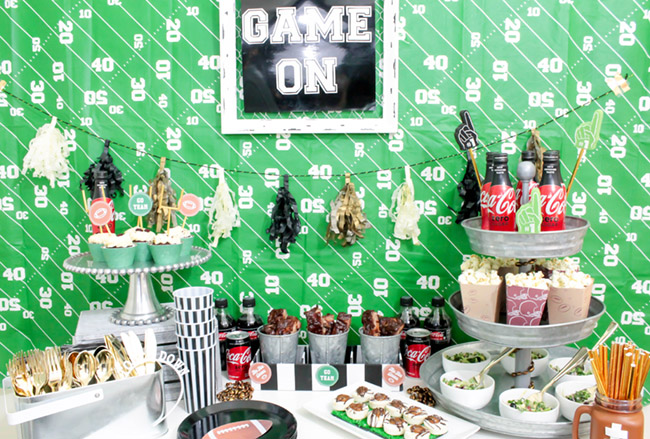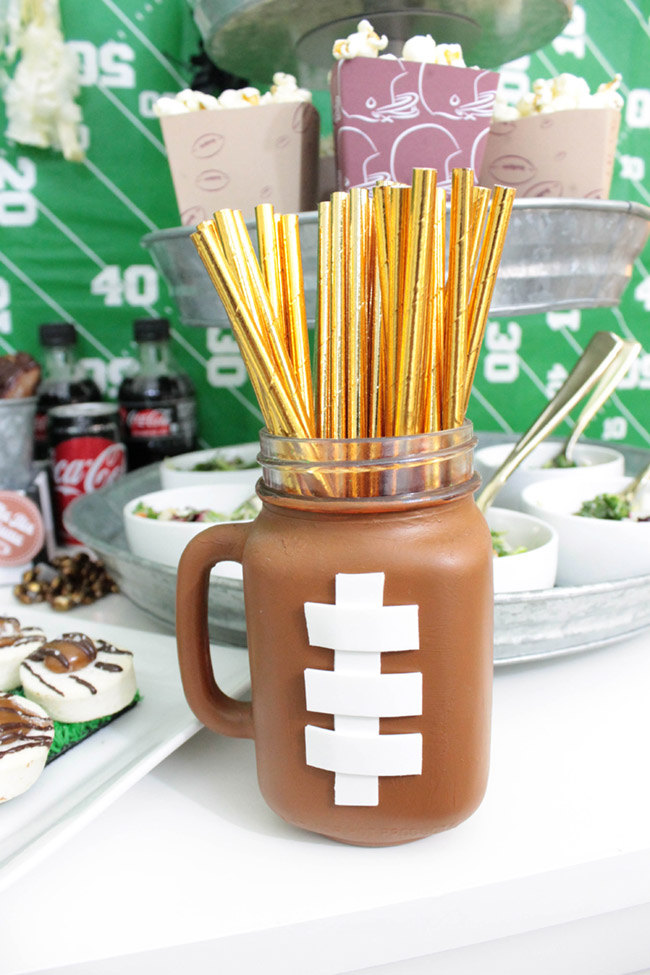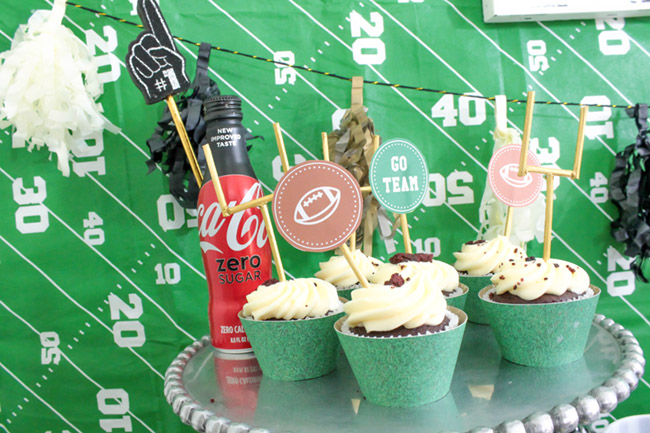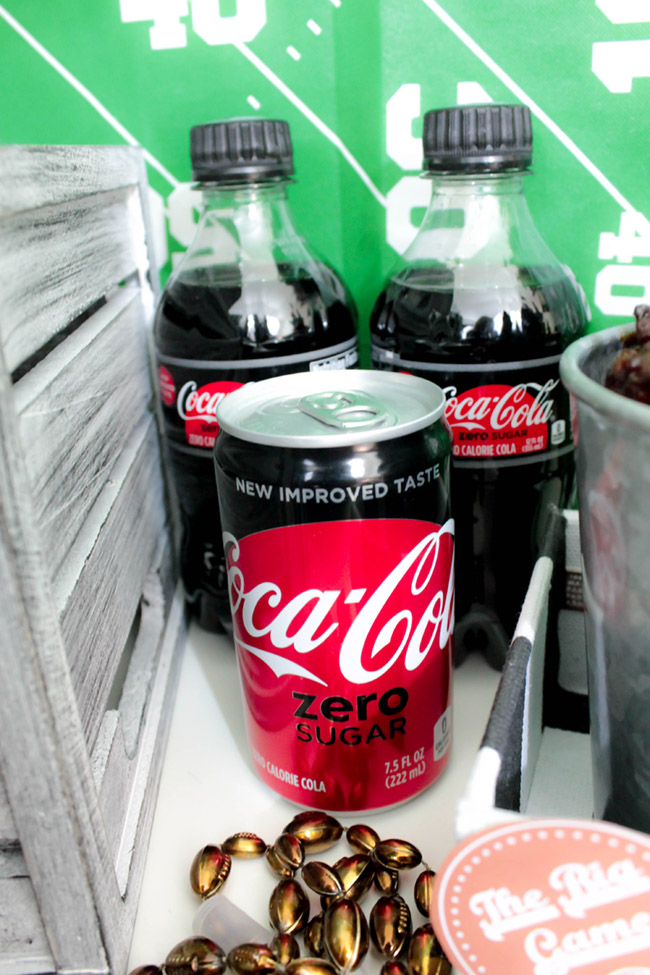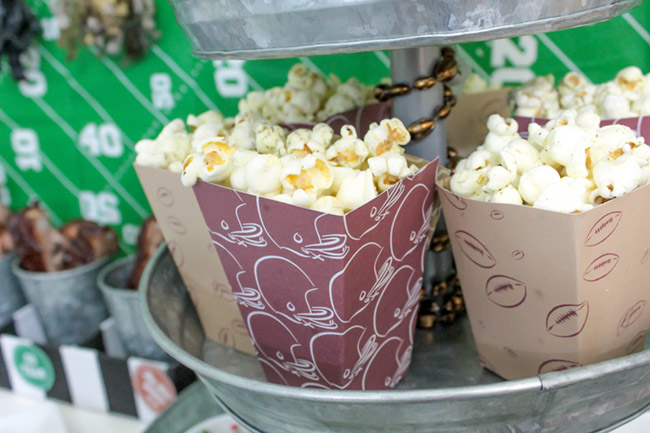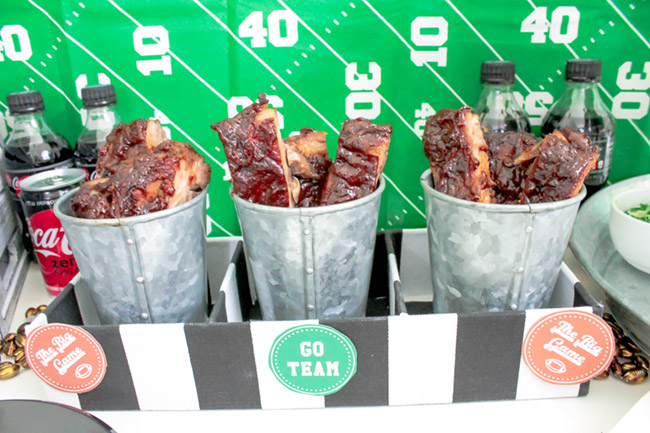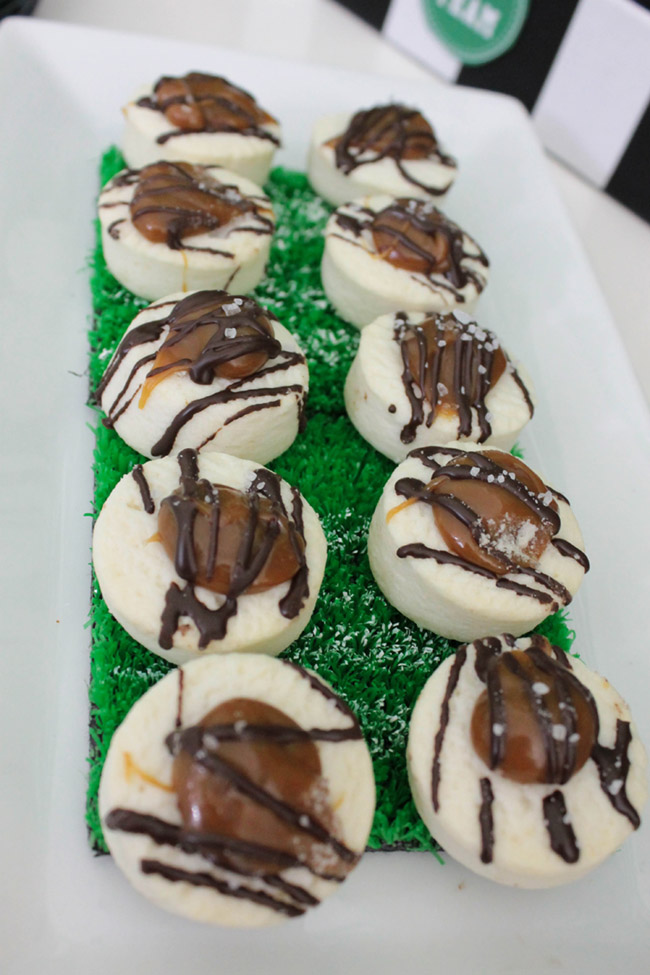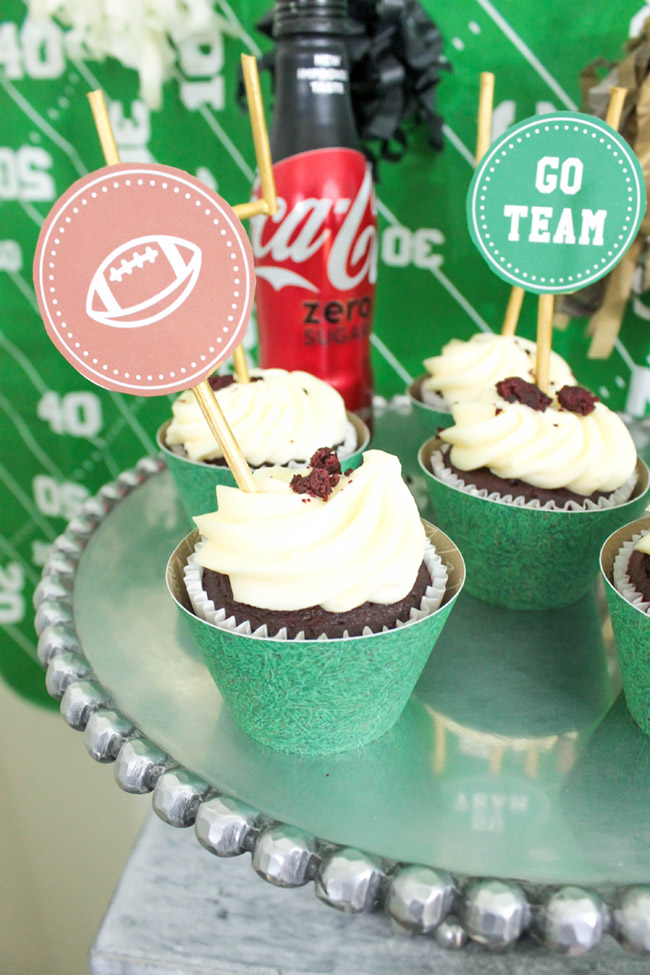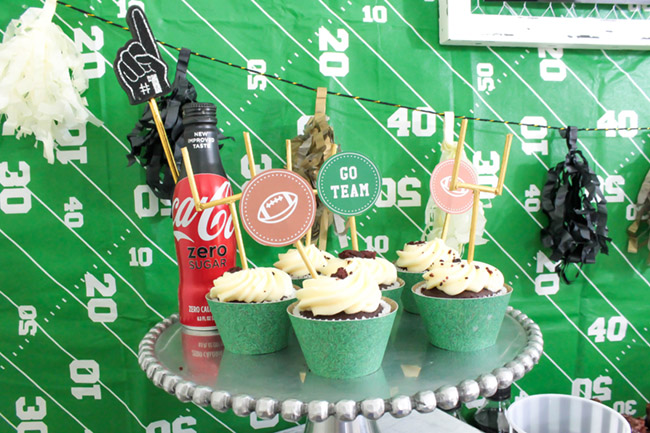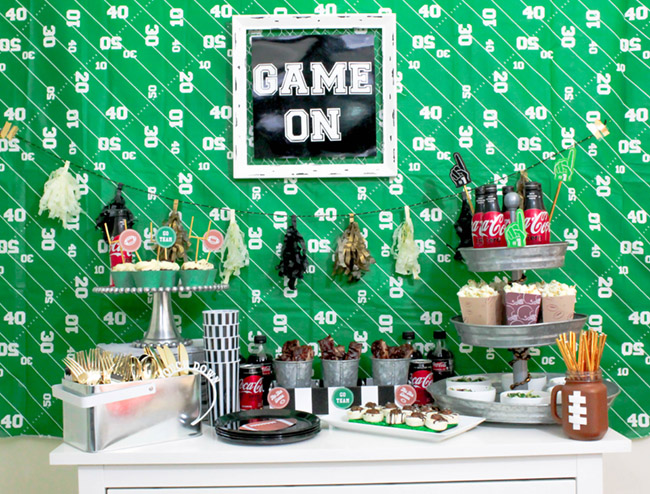 Be sure to check out the Coca-Cola Football Consumer Sweepstakes where you could win your own football VIP experience! See More Here.
Your Football parties will never be the same once you try out these COKE ZERO SUGAR ribs and brussels sprout, radish slaw. You will be making it every Sunday!
What is your favorite football party eat and detail? Let us know in the comments below!
Want more football loveliness? Check out more football party inspiration here and here.