Lovelies! It is that time of the year again where everything is happening all at once. February has some amazing events coming up so be sure to look out for lots of ideas for the super bowl, ground hogs day, the olympics and Valentine's day…whew it's a lot! We forgot to mention in the midst of everything that is going on next month, we have one of our favorite events is coming up this weekend…the Grammys!  In honor of this year's Grammy's and Pantone's color of the year, orchid,  we have put together a lovely orchid Grammy party inspiration board. We thought of everything from invitations to desserts, outfits and decorations and how the beautiful color of orchid can be incorporated into each one. We must say this is one of our all time favorite inspiration boards we have ever put together. So many darling details that work wonderfully for a Grammy party.  Let's get to this eye candy!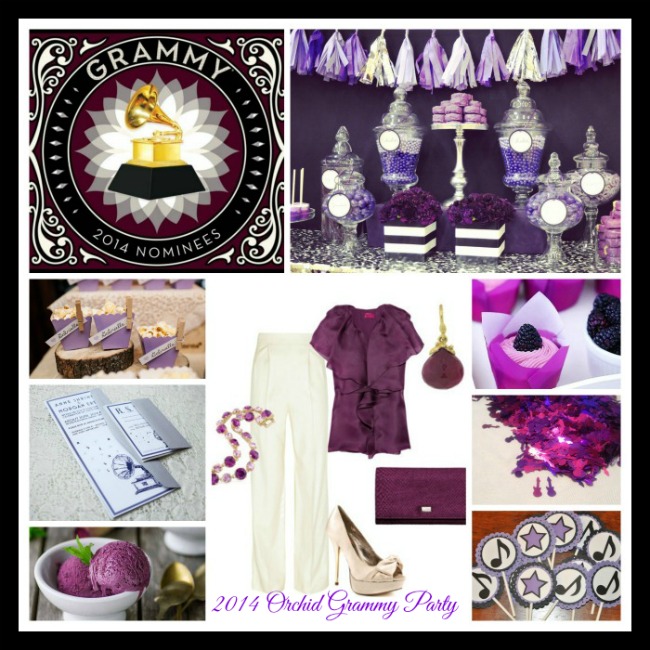 The Highlights:
~Start your party off with this amazing purple gramophone invitation we found from Beth Of All Trades on Etsy. Isn't it lovely. Great Etsy find!
~Wear this beautiful ivory and orchid color outfit we spotted on Polyvore. Those gold shoes are killer and we love that plum clutch!
~Make sure to have a killer candy bar this year with all sorts of purple candies and desserts like this one on Pinterest. Add in some silver and some ever popular sequins and you really have a party!
~Decorate your party with this years Grammy nominees cd cover all around your house. Walls, coasters, food labels, you name it! The deep purple of it will go lovely with all of orchid you are using everywhere!
~Serve snacks in cute little purple containers like these one for popcorn on Amy Atlas. We just love the idea of little popcorn boxes for everyone!
~Throw these cute purple guitar confetti all over for a really fabulous look that is as cute as a button! Get these from Unique Craft Supply on Etsy.
~Make sure to have these fabulous purple orchid cupcakes at your party that we spotted on Indulgy. Your guests will definitely eat these up!
~Top your cupcakes or really any food or drink with these darling music note and star toppers from Scrappin Ash on Etsy.
~Finish the night with some fabulous blueberry ice cream, that just happens to be the perfect purple color for the party! We spotted these lovely bowls on Que Buenoes.
Be sure to get your party on this weekend for the 56 annual Grammy Awards!