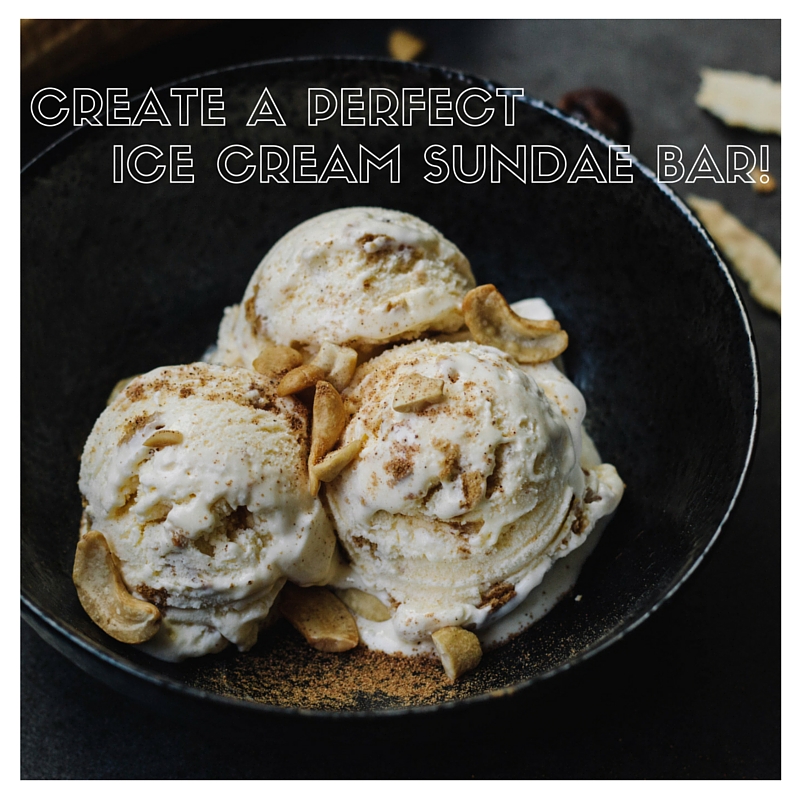 Hey Lovelies! Our friends at Personal Creations have put together fabulous tips and how to's on making the perfect ice cream sundae bar. It's been so hot lately, an ice cream sundae bar sounds delightful. What is better than ice cream on a hot summer day?! There are some really easy and fun ways to set up an ice cream sundae bar including bowls toppings and sauces. This how to will take you through everything!
Create The Perfect Ice Cream Sundae Bar
Summertime is synonymous with pool days, block parties and ice cream sundaes. Now that the temperatures are rising and the kids are out of school, we have an idea that will make you the coolest parent on the block! Why not invite all the neighbors over for an ice cream sundae bar?
A sundae bar is also a great addition to a backyard barbecue. If you want a few creative ideas that will make both the kids and the adults happy, scroll down for a list of unique sundae combinations. We also included tips to make sure you have the perfect setup, enough ice cream and just the right number of toppings and sauces. Enjoy!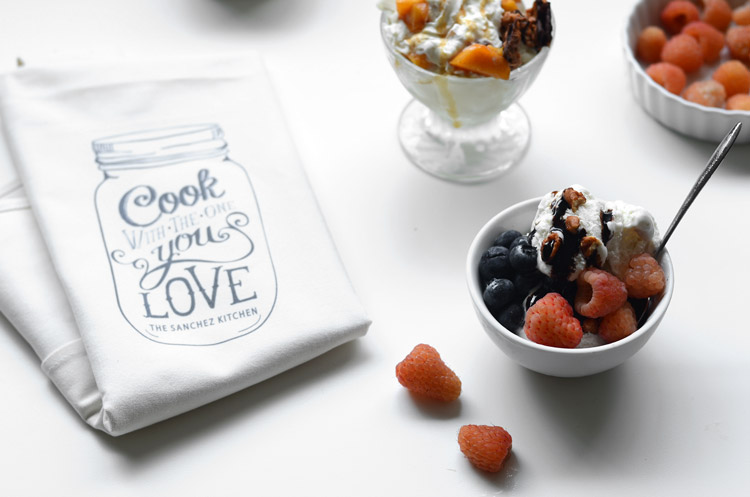 Setting Up An Ice Cream Sundae Bar
Every ice cream party needs a few basic pieces of equipment. Make sure you are prepared with all of the necessary supplies so your sundae bar goes off without a hitch!
First things first, find a table that can accommodate your party. This will vary based on how many guests you plan on having, but it should be large enough to fit a large bucket, bowls and serving supplies. You will also need lots of ice if you are hosting outside. If you want less mess, opt for cute paper bowls, napkins and disposable spoons. Regardless of whether you choose to go disposable or use your own spoons and bowls, make sure you have lots of kitchen towels on hand to clean up any spills!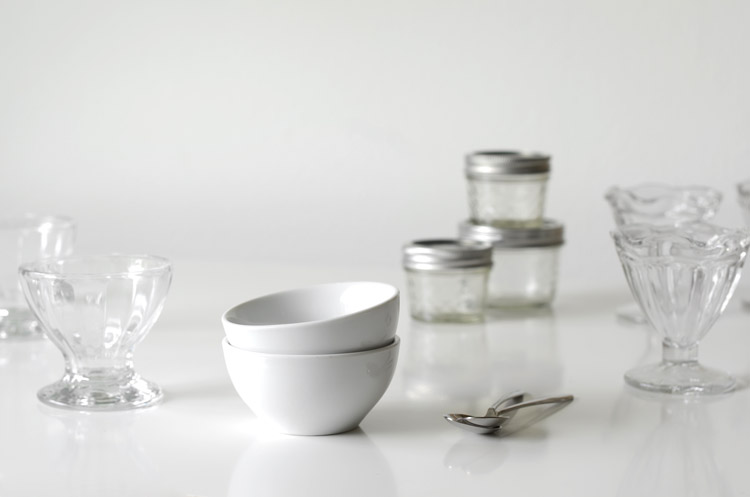 All of your toppings and sauces will need their own bowls, cups or squirt bottles. We recommend squirt bottles for sauces, especially if children are serving themselves. This will reduce the mess, and make it easier for people to create their perfect sundaes. Clear jars or bowls are great for holding toppings, and will help showcase the colorful treats and make your table shine!
Must-haves for an Ice Cream Sundae Bar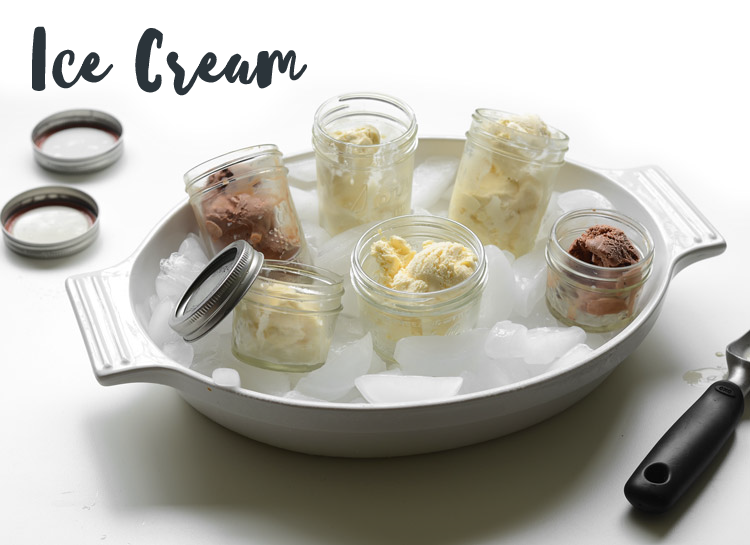 While every sundae bar needs the basics, feel free to add a few fun flavors to your standard neapolitan spread. Once you have plenty of vanilla, consider two or three additional flavors depending on the number of guests. Try adding a fruity flavor like strawberry or coconut, and a fun flavor like coffee or pistachio. Most importantly, make sure you have enough ice cream for all of your guests! We made a handy chart so you can ensure that everyone can enjoy a sundae.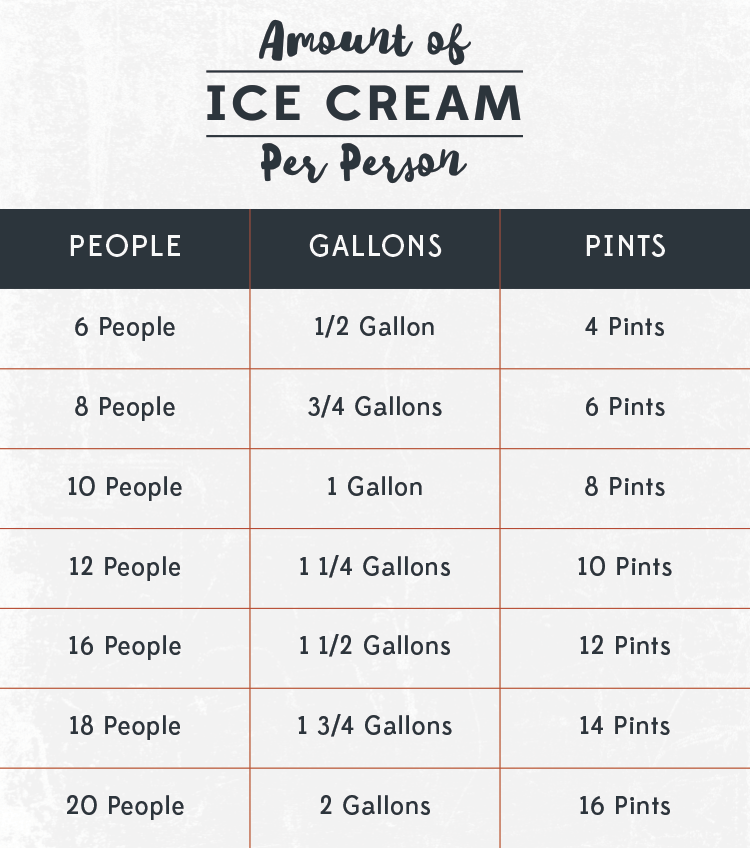 Now that you have just the right amount of ice cream, it's time for all of the fun extras that can make or break your ice cream party! Before you add the cherry on top, cover your ice cream in other exciting flavors. No sundae bar is complete without the finishing touches.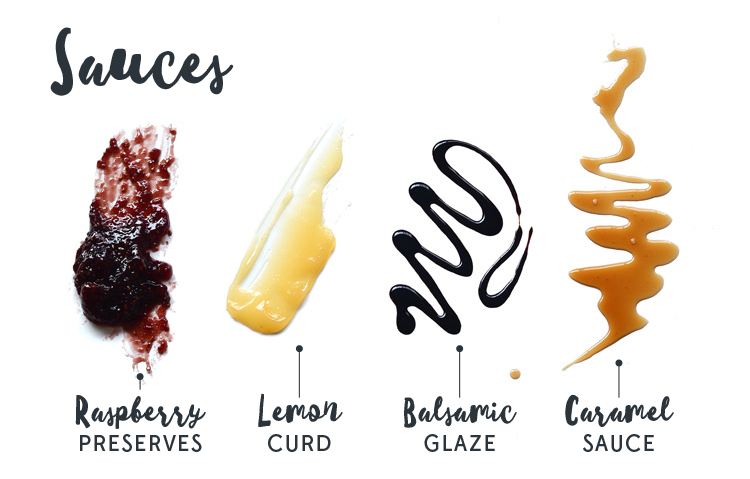 Similar to ice cream flavors, your sauce selection does not need to be overwhelming. Stick to a selection of three to four sauces. Chocolate and caramel are always bound to be a hit. If you feel like getting creative, try a fruity sauce or butterscotch. Adults may also like innovative flavors like lemon curd, olive oil, raw honey or balsamic glaze.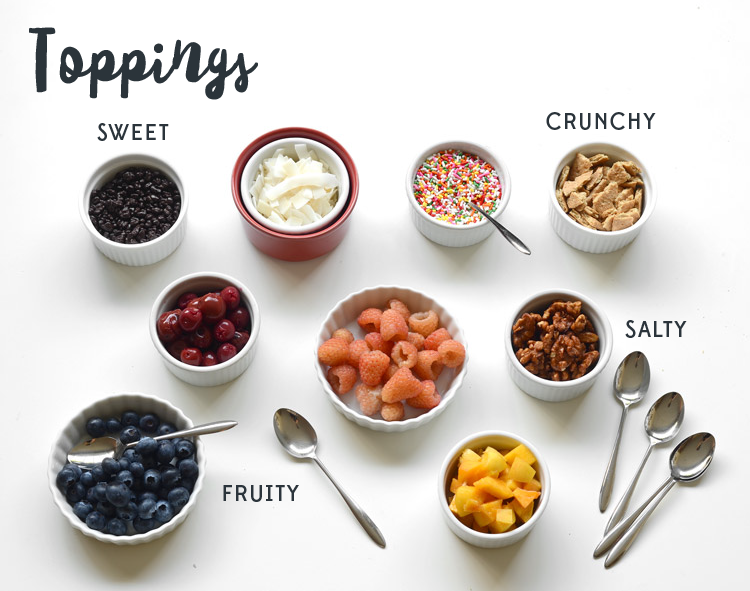 Sundae toppings can be as endless and creative as you wish. This is really your area to shine! Unlike with ice cream flavors and sauces, the more toppings, the better! Try to include a selection of salty, crunchy, fruity and sweet toppings. You want to have enough selection for all of your friends and family to choose from, from the food connoisseur to the picky toddler. We'd recommend having at least 8 topping options. Ideally, there should be 2 of each kind.
Salty – Peanuts, walnuts, pretzels and potato chips can all offer some balance to an otherwise sweet treat.
Crunchy – Waffle cone pieces, coconut flakes, brownie bites and cereal add crunch for some texture contrast.
Fruity – Cherries, berries and mango will make the health-conscious happy.
Sweet – Chocolate cream cookies, cookie pieces and sprinkles will have the little ones running to get in line.
Another great way to dress up your ice cream sundae bar is to create fun labels for each topping and sauce. If you want a few more topping ideas, check out our creative sundae combinations. We came up with ideas for every type of guest. You can event come up with your own ideas and display it to encourage every one to get creative with their sundaes!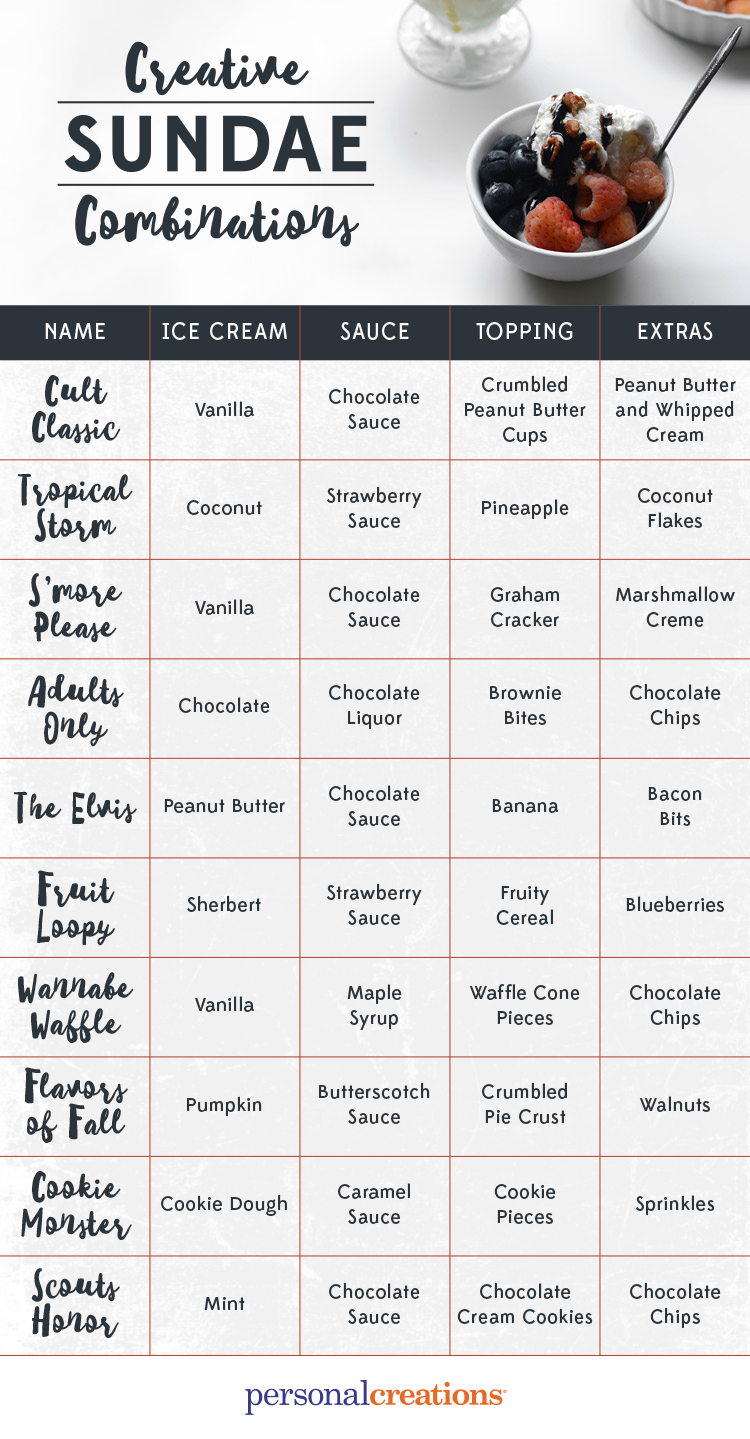 Resources: tastingtable.com | thekitchn.com | bitememore.com | oregonlive.com |