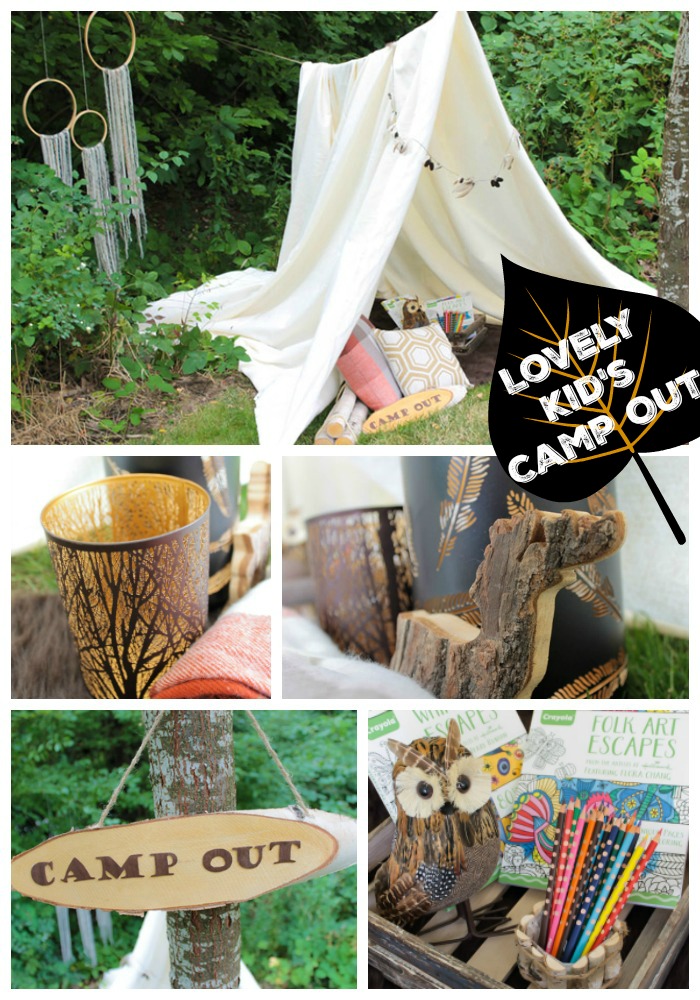 There is nothing better than camping in the summer. Getting fresh air, being one with nature, staring up at the open sky. Everything about it is so amazing. Even more so if you are a kid! Today we are going to show you how to put together a fun kid's camp out to create a perfect midsummer night's dream. This is a perfect complement to our woodsy rustic tablescape we did! With coloring, crafts and lots of DIY's, it will be the perfect little summer get together for your kids and their friends.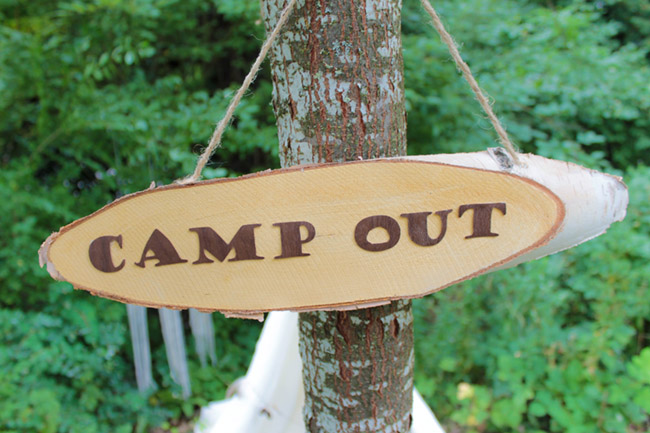 This whole kid's camp out is filled with so many fun DIYs including the tent! You can set up this easy kids tent anywhere because it takes tenting back to the good ole' days: with just a rope and some fabric! Jute twine and warm & natural cotton quilt batting is a great choice for this. It creates the perfect cozy spot for the kids and be open enough to enjoy nature and the stars to the fullest. Giving each kid their own tent is a great idea too.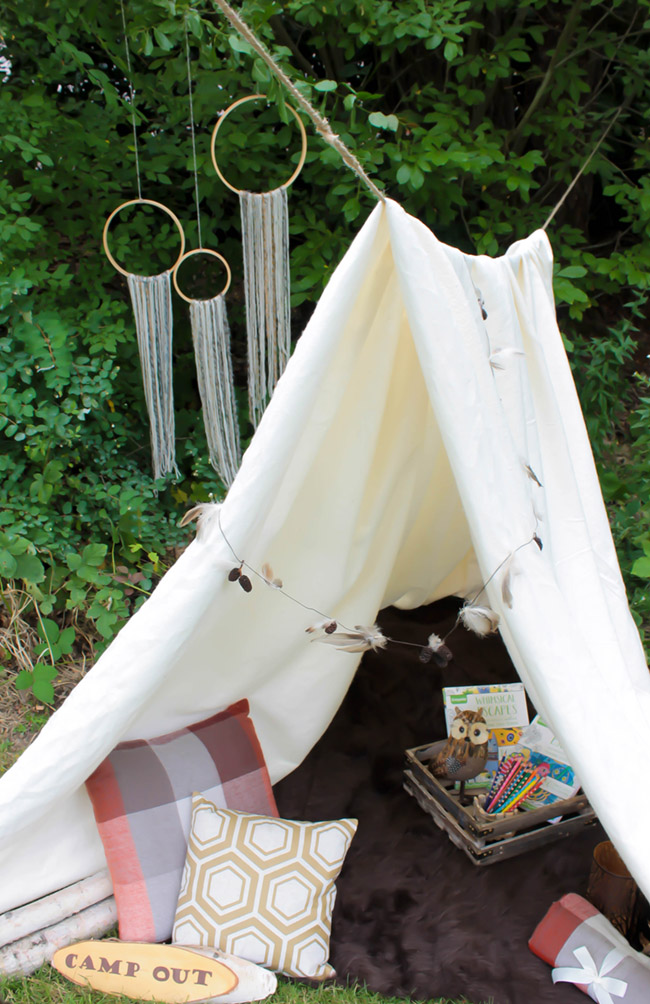 Add in a brown fuzzy faux grizzly fur fabric rug at the bottom of the tent to make the area even more cozy and comfortable for laying. It adds a little luxury to the tent too which we love. Plaid pillows and blankets mixed with hexagon copper pillows really make the space inviting and a little bit more rustic feeling too. Add in a birch wood bundle to bring in that natural detail to the tent too.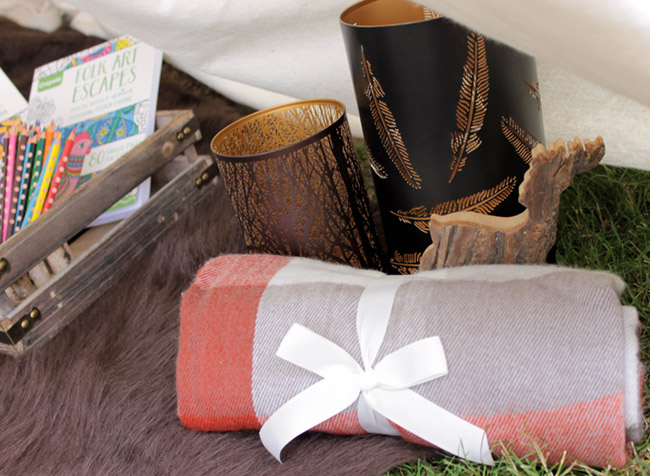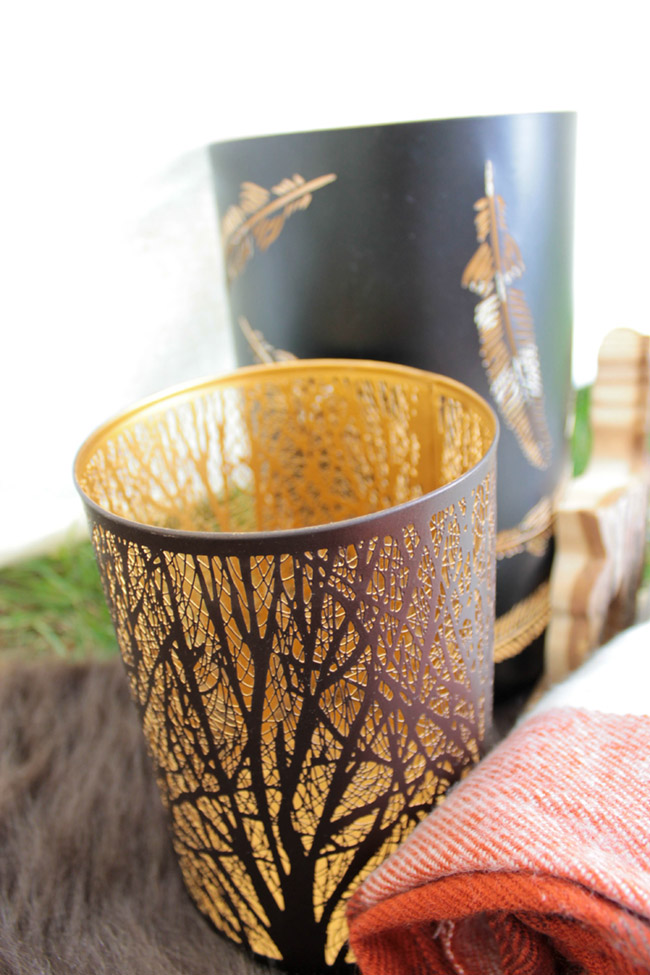 We love adding lanterns to my tent to bring that warm natural glow when it starts getting dark. These feather and branch lanterns are so cute and just hit the shelves a couple of weeks ago.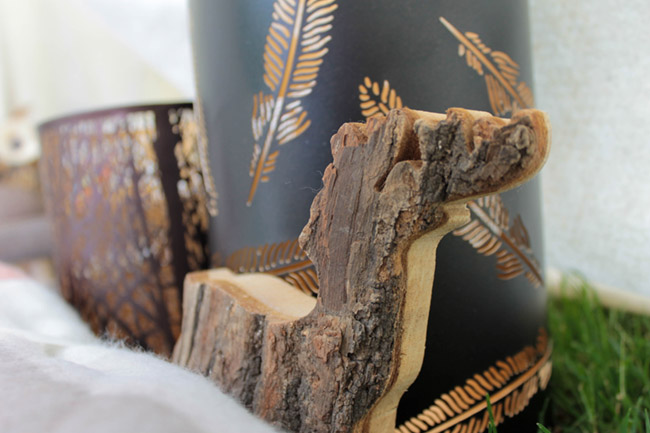 Also this wooden moose is adorable too and perfect companion for this kid's campout.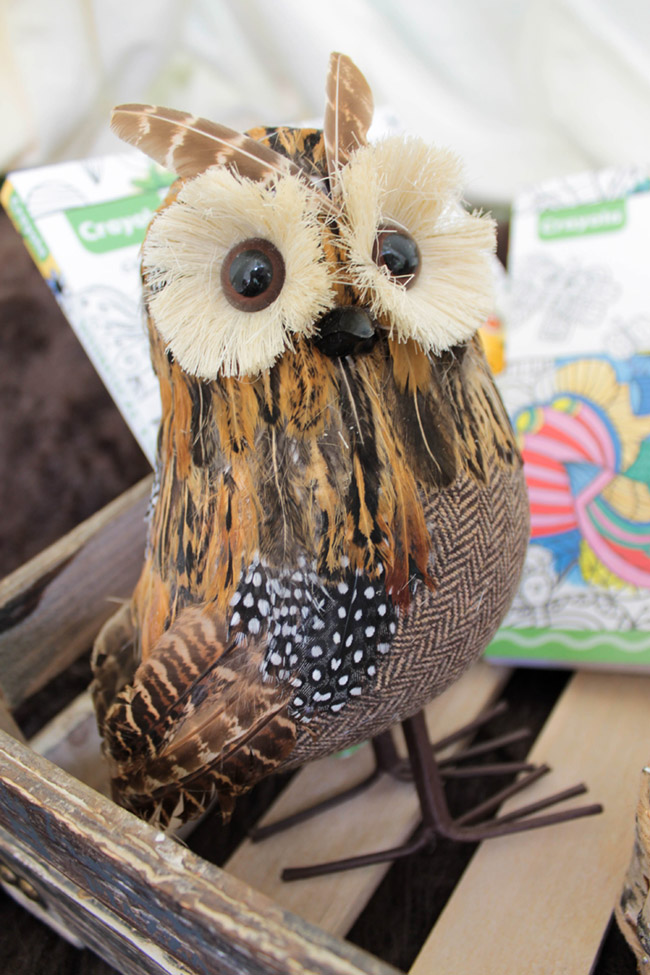 This feather owl is also pretty stinking cute too and perfect for this camp out!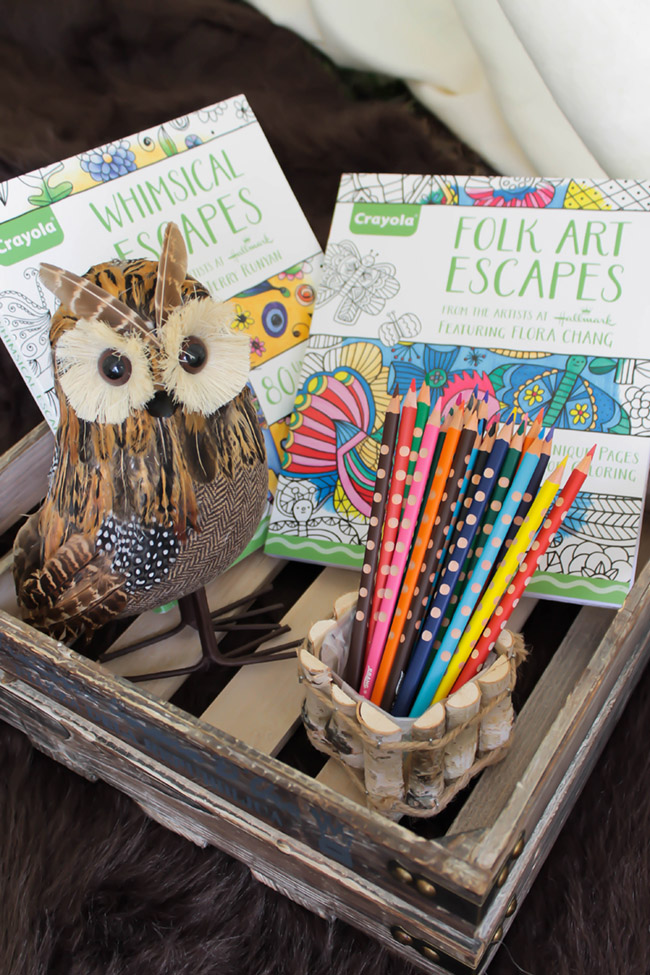 Coloring books are a fun activing for a kid's campout and are so popular right now! Having woodland and wilderness themed books will really bring nature to life in the pages.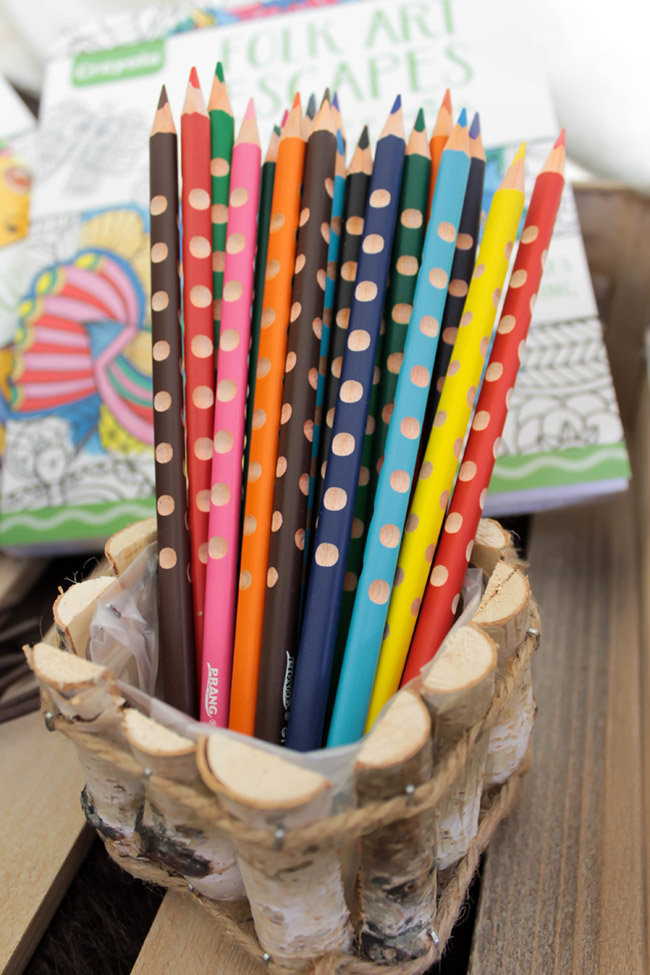 We love these wood groove colored pencils to that have a rustic natural look and feel to them for this kid's campout too.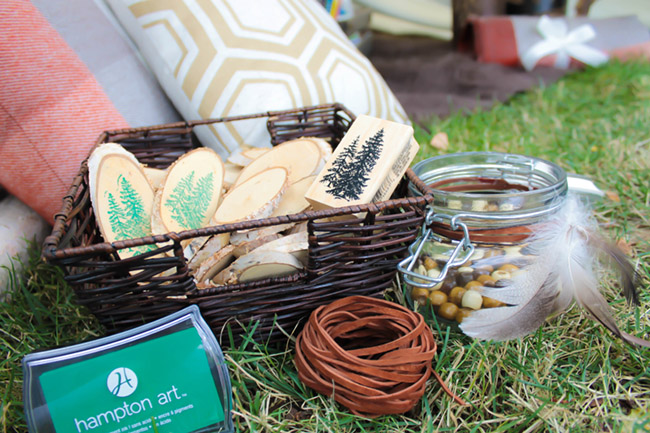 Here is another fun camp activity for the kids to do during their camp out: wood necklaces! Lay out small wood slabs, nature themed stamps, ink, suede lace and wood beads and let the kid's make their own nature necklaces during their camp out. Be sure to have some hot glue around to glue the lace to the wood. Then the kids can wear the necklaces all night.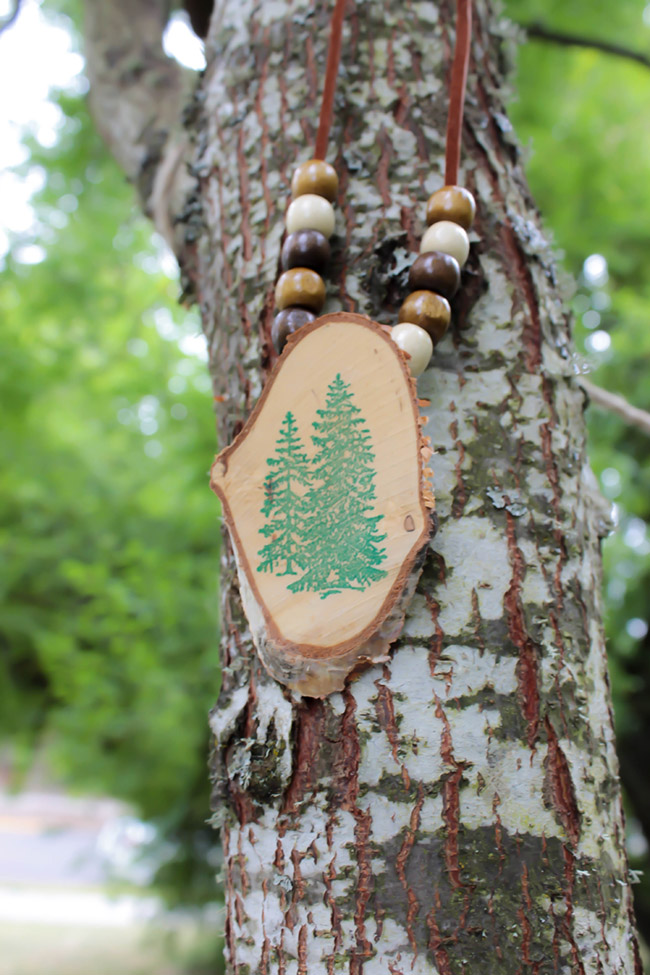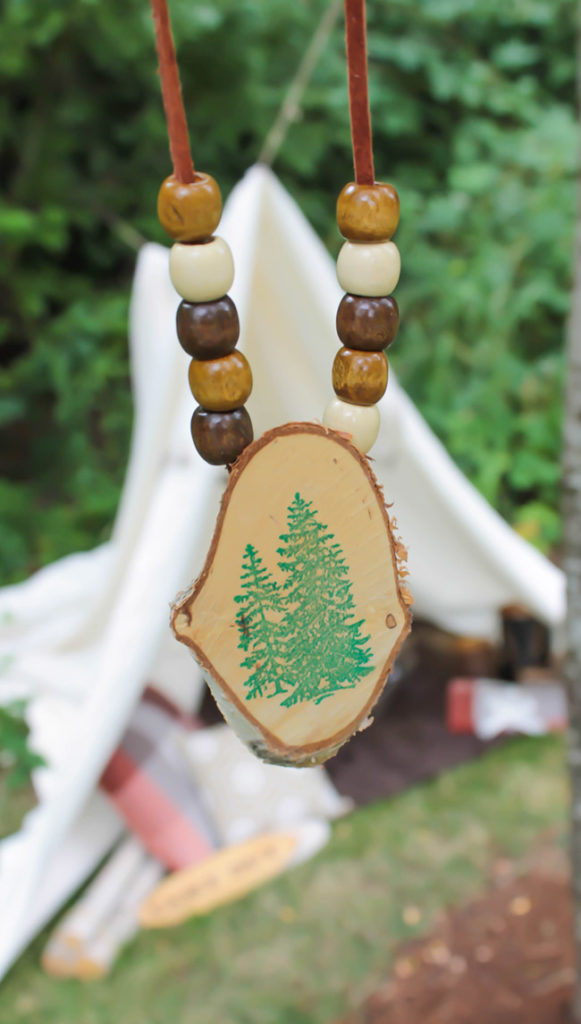 You can even decorate baskets and jars with suede lace and feathers to bring more of a camp out vibe to them!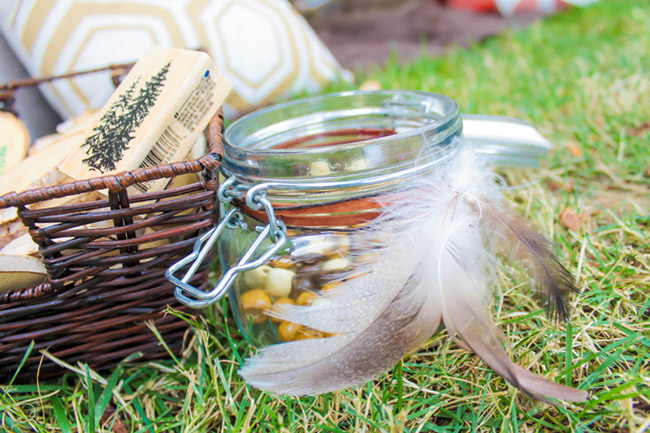 Let's get to these lovely DIYs you can do for this Kid's Camp Out!
Wooden Camp Out Sign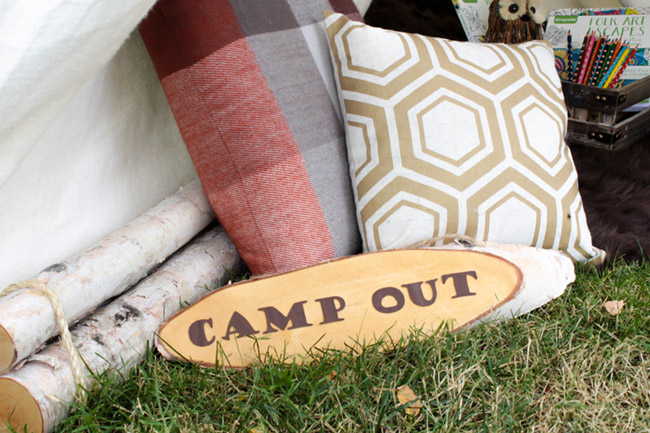 This wooden camp out sign is a really easy DIY for the camp out too! We love the faux wood letter detail from the Cricut wood leather.
Here is what you need:
This camp out text picture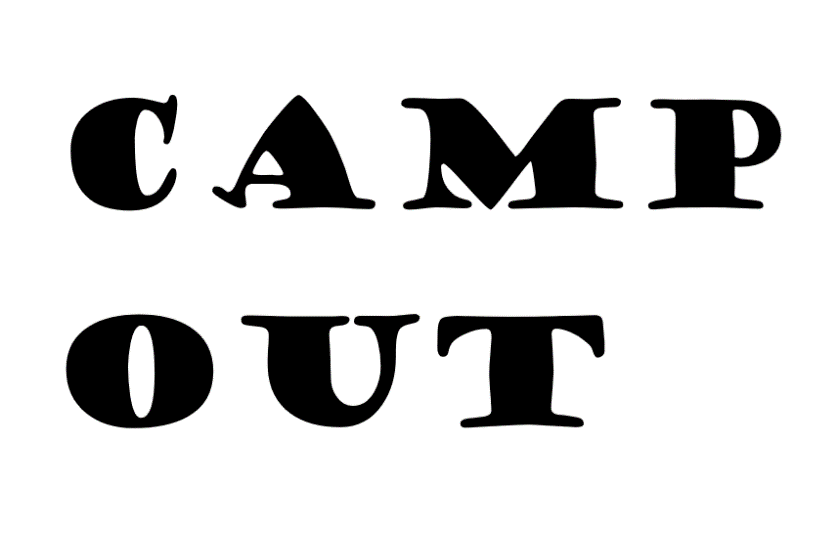 Follow the steps in this tutorial of uploading the camp out picture to Cricut.
Use the custom dial option on your Cricut and choose faux leather in the design space.
Cut out the letters about 1 1/2" tall.
Hot glue the letters to the wood sign.
Hang or place the sign anywhere in your camp!
Feather & Pinecone Garland
Another easy, yet lovely DIY for this kid's camp out is this feather and pinecone garland. It adds a natural and textural design element to the tent and is so simple to make.
Here is what you need:
Just put a small dot of hot glue on the stem of the feathers and pine cones and secure to the brown thread. Mix and match different sizes of feathers and feathers with pine cones to create your own natural look. It's really as simple as that!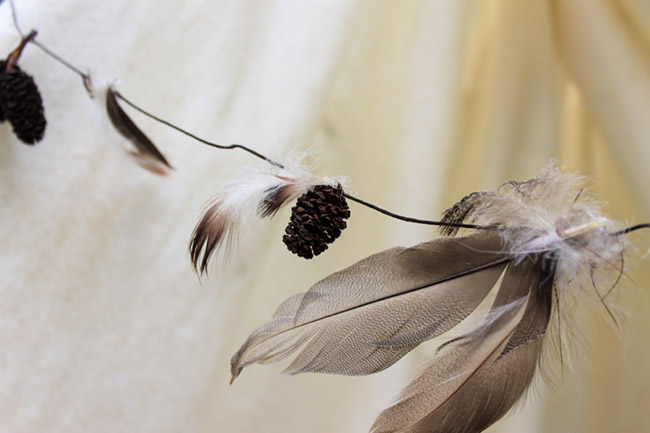 Be sure to hang it at the top of your tent to add a lovely natural look to your kid's camp out.
Camp Out Yarn Dreamcatchers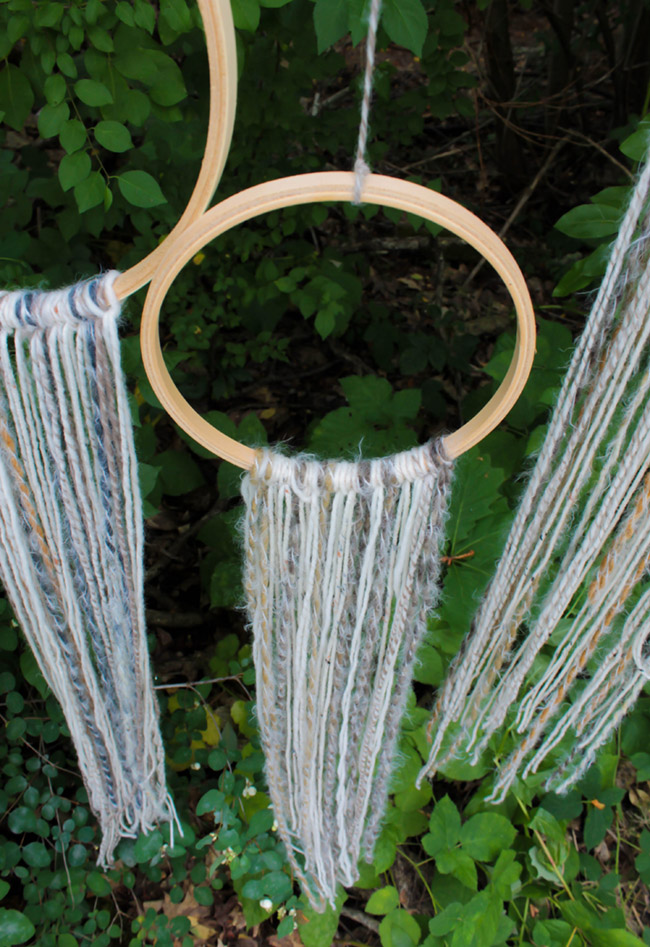 Another easy and fun decoration for your kid's camp out are these yarn dream catchers. You can place them anywhere next to your tent or even hang them in your tent for a soothing and lovely look to your camp out. This DIY is so simple, you and the kids can even do it together! Having a dream catch activity station at the camp out is a fun idea too!
Here is what you need:
Different sized wooden embroidery hoops
Yarn-We choose natural looking yarn in different sizes and textures like Aran Fleck, Taupe Scarfie Yarn, and Beige Angel Hair.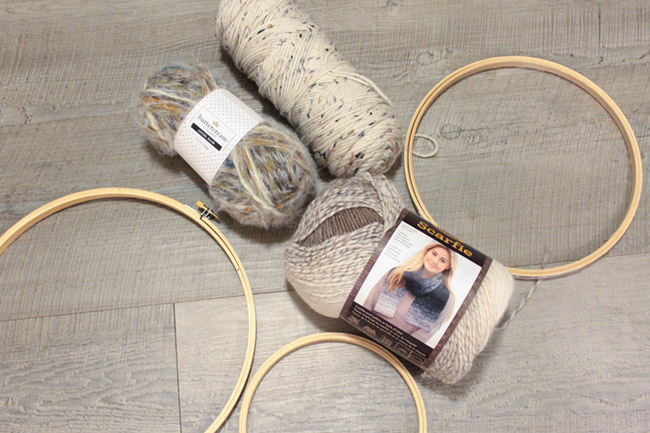 – Start by measuring out pieces of yarn at different lengths. All around about half to a full arms length.
– Then fold the yarn in half and stick the loop behind the wooden hoop like shown below.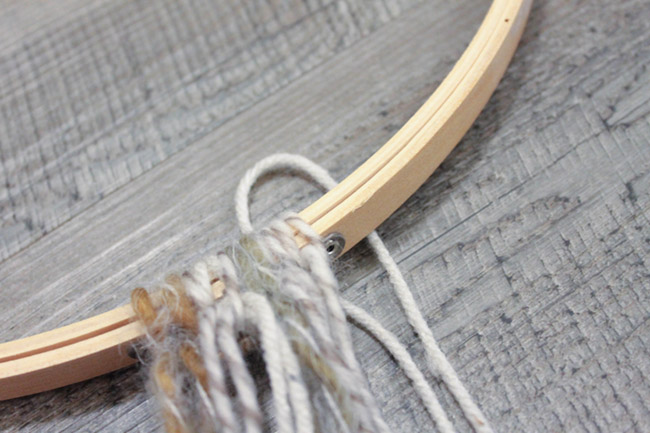 – Pull the bottom pieces through the loop to make a loop knot as shown below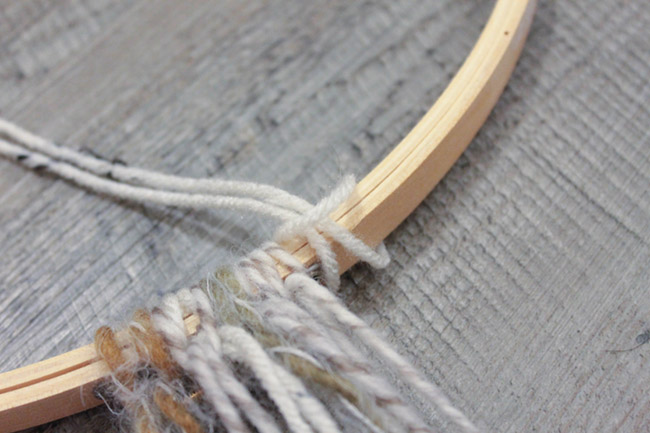 – Pull down and until snug.
– Repeat with different yarn until you get your desired look.
It looks really charming when it is all done!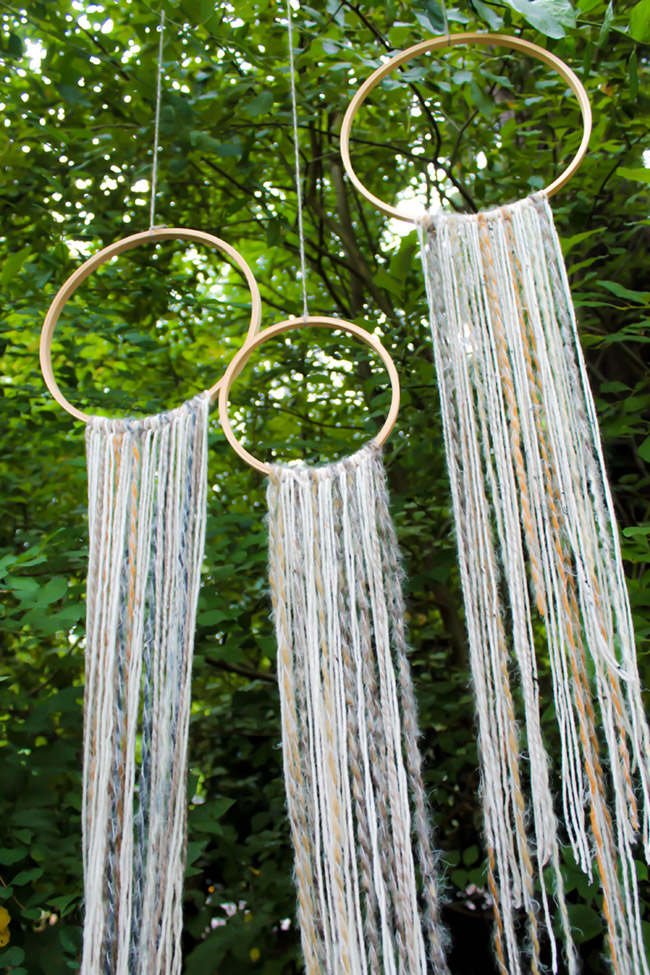 There you have it, a lovely midsummer night's dream kid's camp out!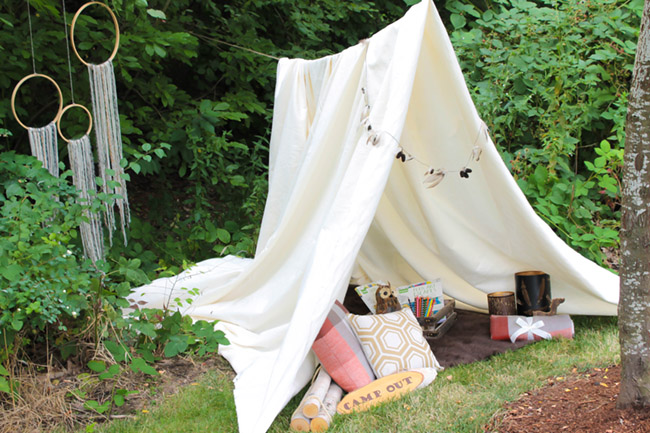 We would love to hear what details and DIYs are your favorite!