We think everyone is channeling their inner plaid this Holiday season and so are we! We are so excited to bring you this lovely and easy Christmas Tablescape that is full of super cute details. Plus it is easy on the wallet!
Holiday Tablescape Blog Hop
Emily here from B. Lovely Events and I am thrilled to join this talented group of bloggers for the Holiday Tablescape Blog Hop this week! Today I am giving you a real behind the scenes look of the Miller Household. This is the first "not on location" shoot that I have done but wanted to show you that you can do a lovely Christmas tablescape anywhere with any number of people.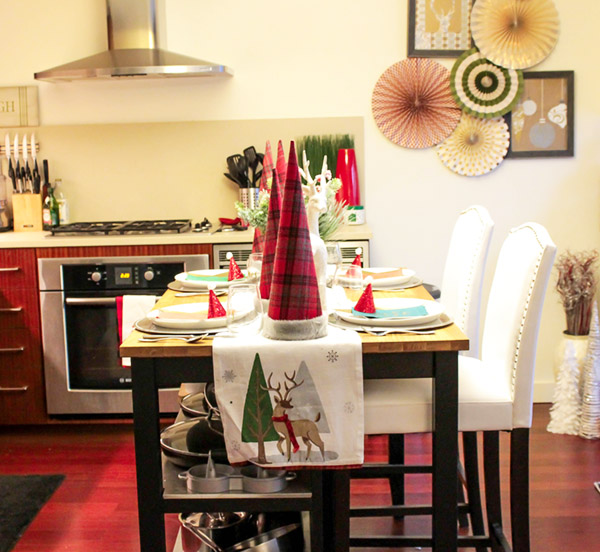 Me and my husband live in an apartment and this little lovely island table is our dining room table. We love it because it is super duel purpose, one side holding our pots, and the other housing our chairs and a space for us to dine at. It also fits perfectly right in our kitchen! Just because it is small, doesn't mean you can lovely it up for Christmas or any other occasion for that matter!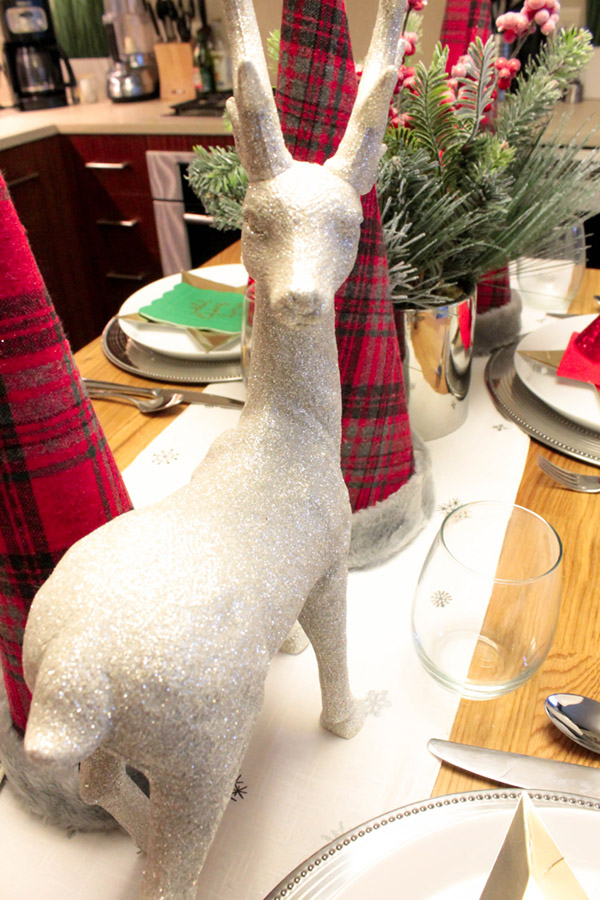 Christmas for us can be just the two of us a lot of times or we spend it back in Colorado with a big family. My Christmas tablescape shows you the more intimate 2-4 person setting that you can put together. Just because it is small, doesn't mean it can't make a big impact.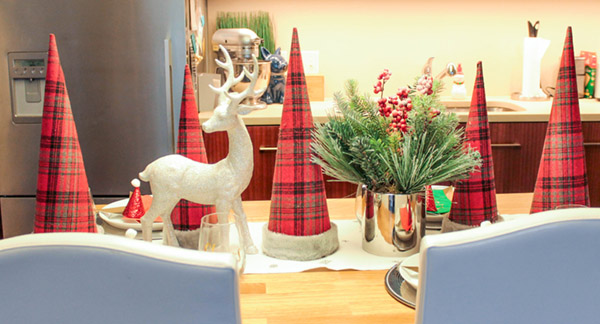 There are so many thing I LOVE about this Christmas tablescape. The plaid cone Christmas trees are so lovely and create a beautiful dynamic eyeline to the table. Plus it has great tuxture with the cozy fur wrapped at the bottom of each one. I love seriously love the winter berry evergreen centerpiece in a bright silver vase too though. It brings just the right about and winter and shine to the table, all in 1 piece.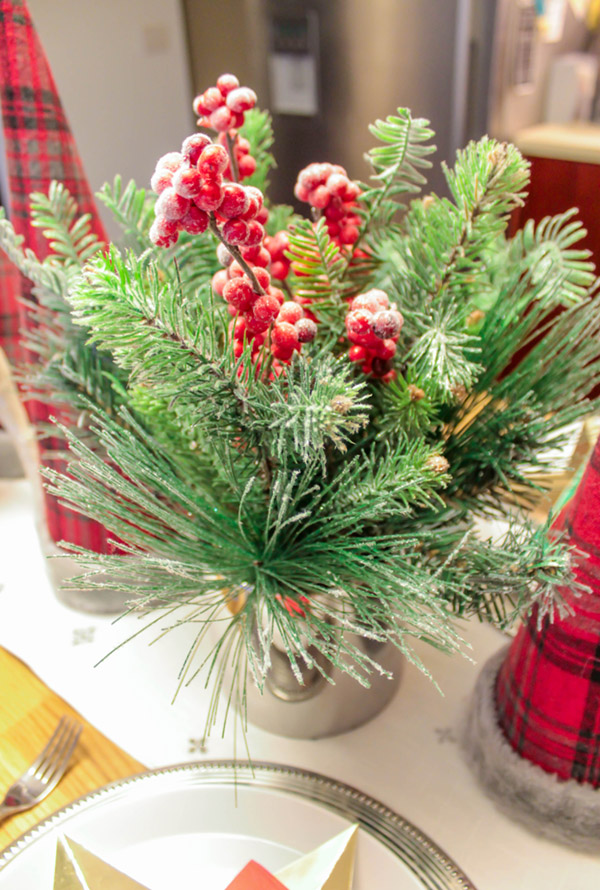 I also really adore these Christmas place settings! I always say a great place setting starts with a great charger and this silver one is so gorgeous. I love the rimmed border around it. The mini Santa hats though at each place setting are super adorable. Probably my favorite detail of the whole table setting!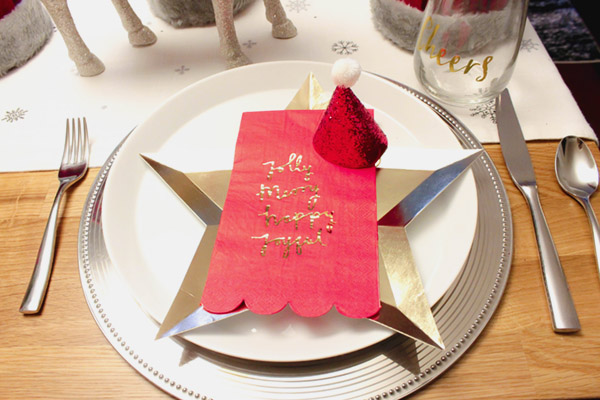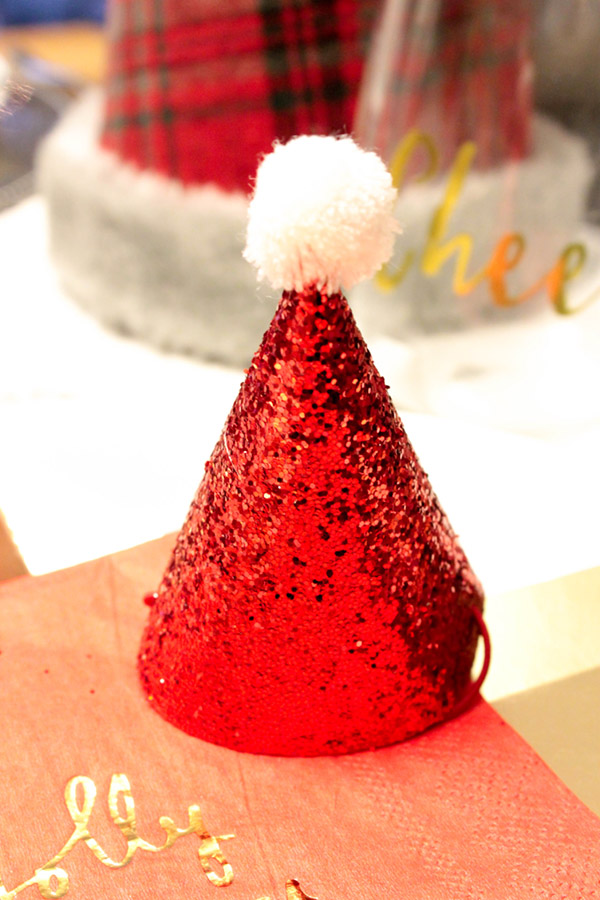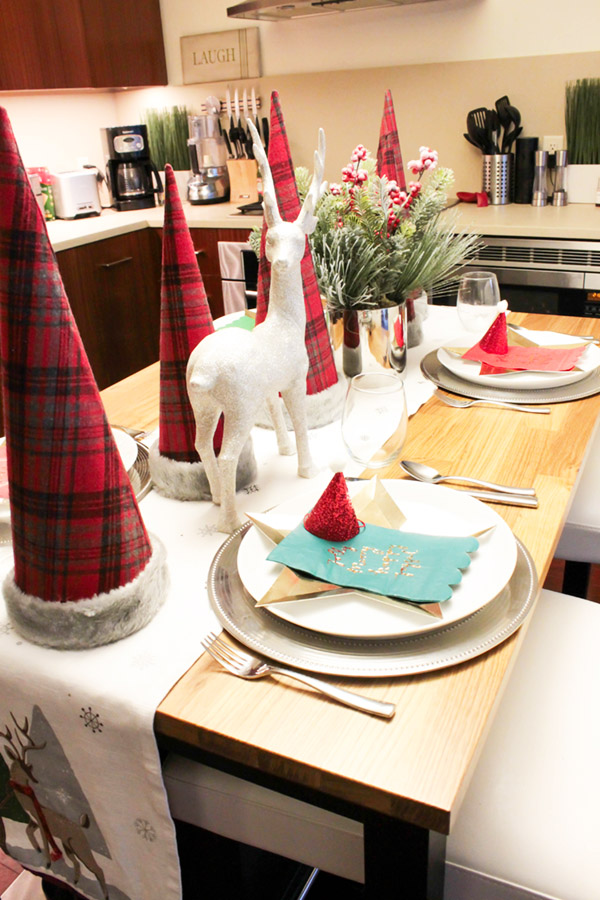 This gold foiled napkins are so merry and bright. They just bring this jolly, cheer to this table that I love. Especially with all of the gold saying on them. They go so well on the silver star plates.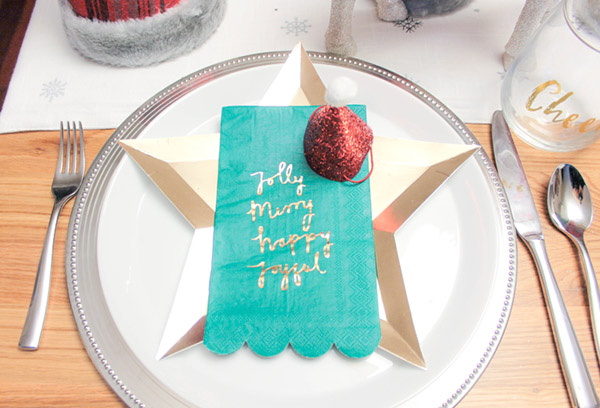 Speaking of cheers, once I spotted these cheers wine glasses, I knew they were perfect for this Christmas tablescape. Definitely gets you in the festive mood when you see them.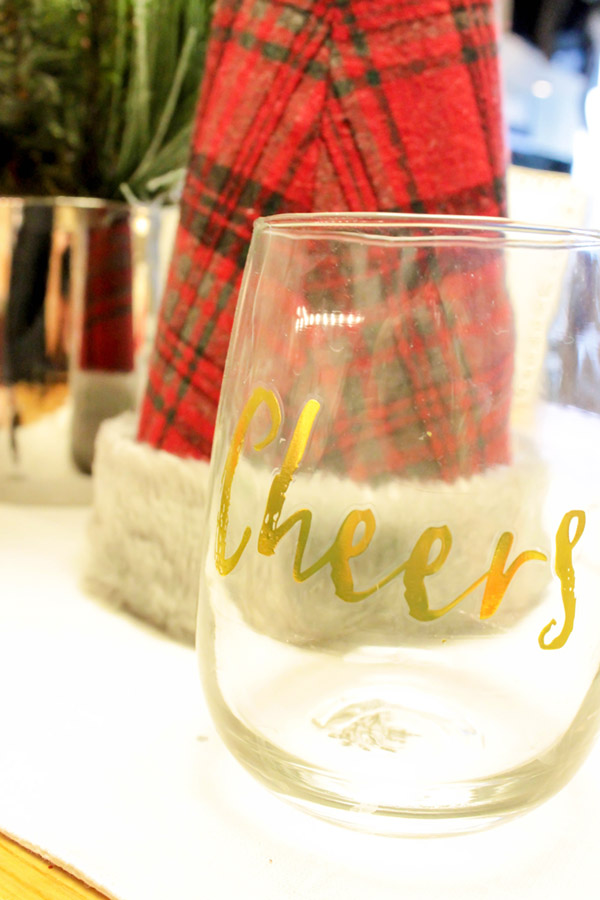 The runner on the table perfectly matches the plaid Christmas tree cones and the snow brings a wintery vibe that I love too. Plus who doesn't love a deer wearing a scarf?!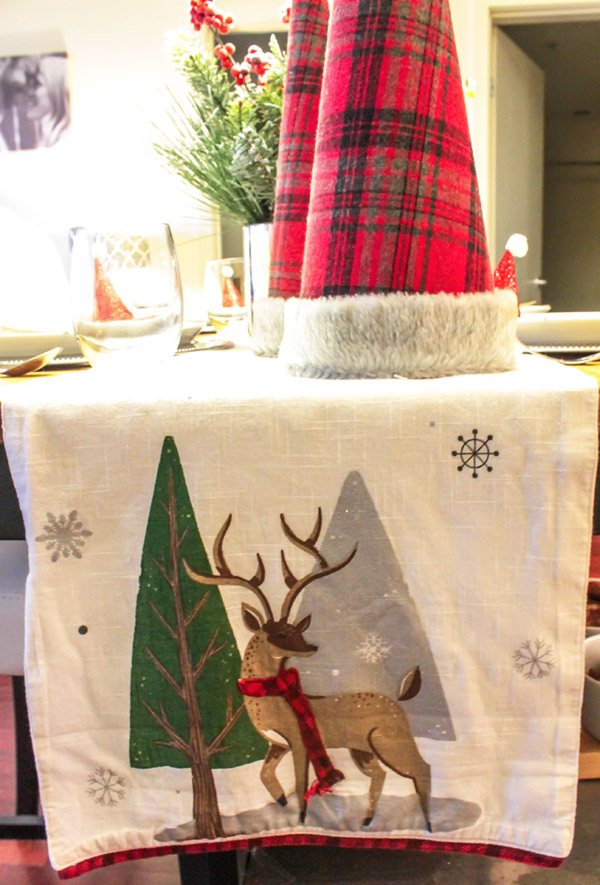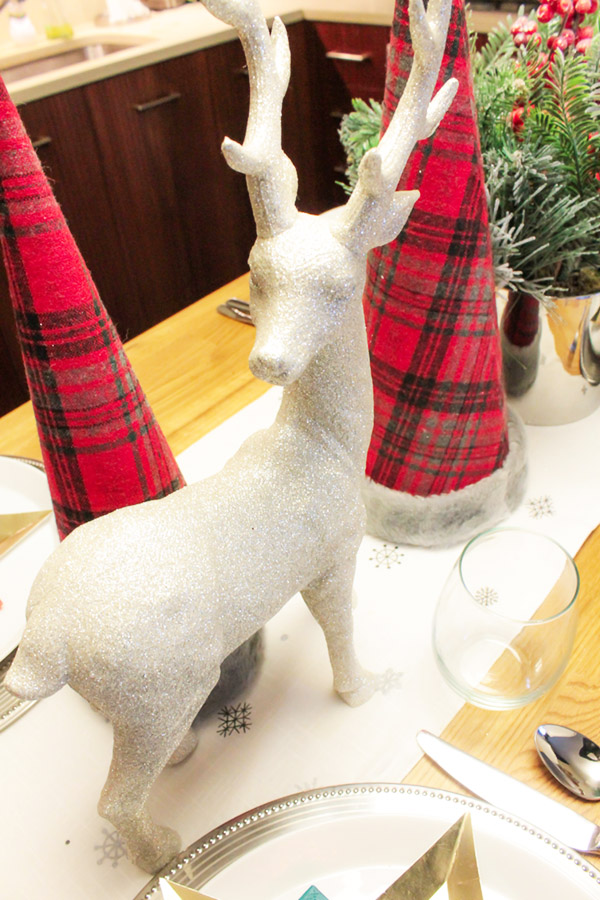 Put those all together and you get this cozy, wintery Christmas tablescape full of some really cute details! This whole table comes out to under $50 too! If you are on a budget (or want something just simple and easy), then a tablescape like this for Christmas is perfect for you! Sometimes no fuss can be the best! Leaves more time for visiting with family and enjoying everything the season has to offer.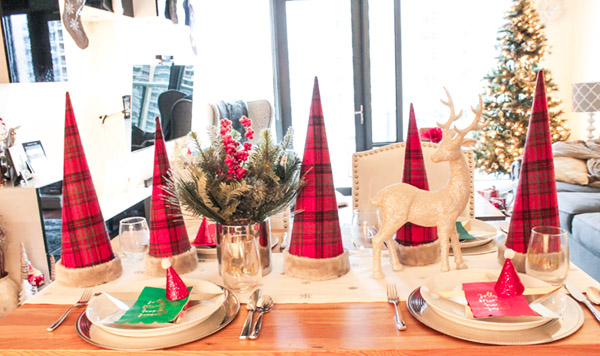 }————————————————————–{
Make sure to check out all of the lovely holiday tablescapes that are part of the blog hop. Each table is full of eye candy and holiday inspiration! <3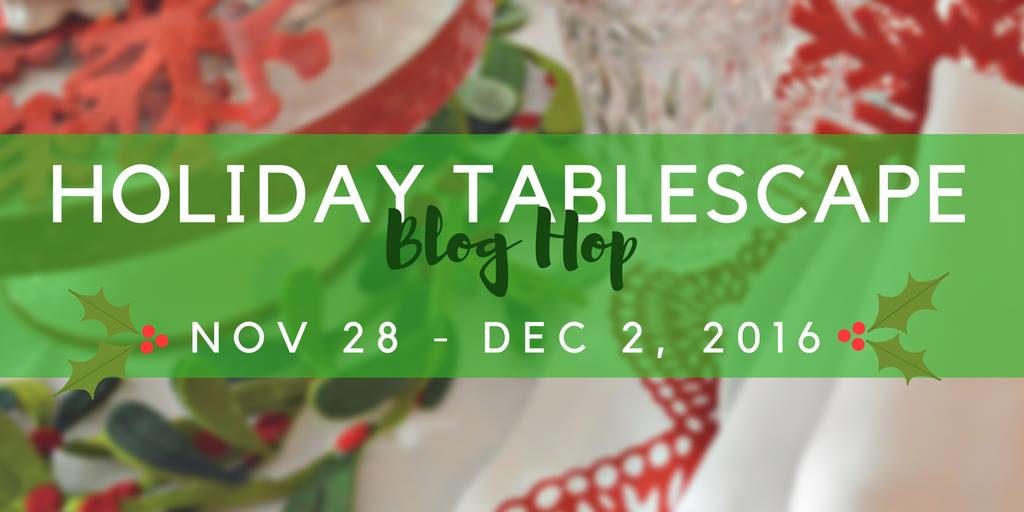 Monday
Twelve on Main | Everyday Living | Home is Where the Boat Is | Rustic – Refined
Tuesday
Life and Linda | Rattlebridge Farm | Rosemary & Thyme | Living With Thanksgiving | Cozinest
Wednesday
Belle Bleu Interiors | My Kentucky Living | A Toile Tale |Bluesky Kitchen | Starfish Cottage
Thursday
Citrine Living | B. Lovely Events | Ramblings of a Southern Girl | Panoply
Friday
Celebrate & Decorate | Farmhouse 40 | The Painted Apron | Sweet Sensations
____________
{Lovely Vendors}
Christmas Tablescape Styling- B. Lovely Events
Plaid Cone Trees- Jo-Ann Fabric And Craft Stores
Silver Sparkle Deer- Jo-Ann Fabric And Craft Stores
Winter Berry Evergreen Centerpiece- Target
Plaid Deer and Snowflake Runner- Target
Gold Cheers Wine Glasses- Target
Silver Chargers- Kitchen Kaboodle
Circular White Plates & Silverware- Crate and Barrel
Star Plates- Fancy That
Mini Santa Hats-Fancy That
Holiday Gold foil Napkins- Fancy That