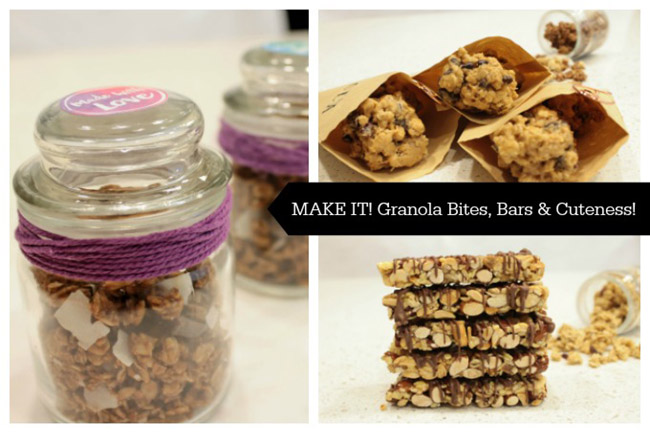 Hey Lovelies! We are all about Granola lately and there are so many things you can do with it. Granola has a wealth of health benefits, including its ability to lower cholesterol, regulate digestion, build stronger bones, improve your heart health and increase energy which means it makes a great snack and an even more thoughtful gift. Not to mention super yummy! Today, we have two easy-peezy recipes to make granola bites and bars that will kick up your snack time up a notch and some super lovely ideas to gift and give granola too! We can't wait to show you!
No-Bake Granola Energy Bites
We LOVE No-Bake Granola Energy Balls. They are an easy thing grab any time, they are easy to make and can be taken anywhere. Plus, who doesn't love peanut butter and chocolate chips together?! These are a great, easy, budget-friendly whole food snack you are going to make again and again. Once you make these you will be telling yourself, best snack ever!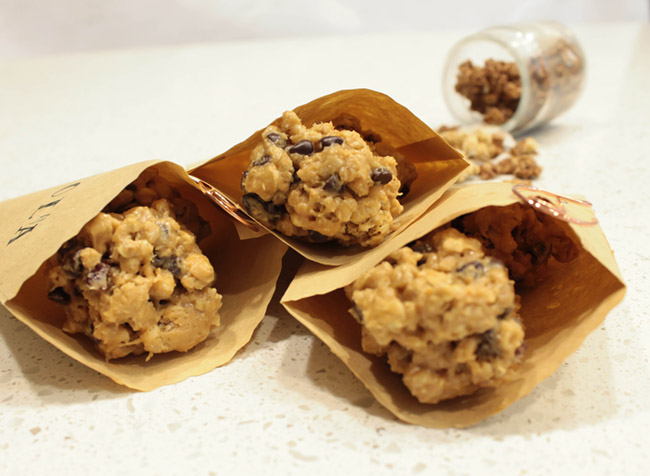 No-Bake Granola Energy Bites
Prep Time: 5 mins
Total Time: 5 mins
Yield: 12 balls
Ingredients
• 1 cup dry granola
• 1/4 cup peanut butter
• 1/4 cup honey
• 1/4 cup mini chocolate chips
• dash of salt
• 1/2 teaspoon vanilla, optional
• Parchment paper
• Baking Sheet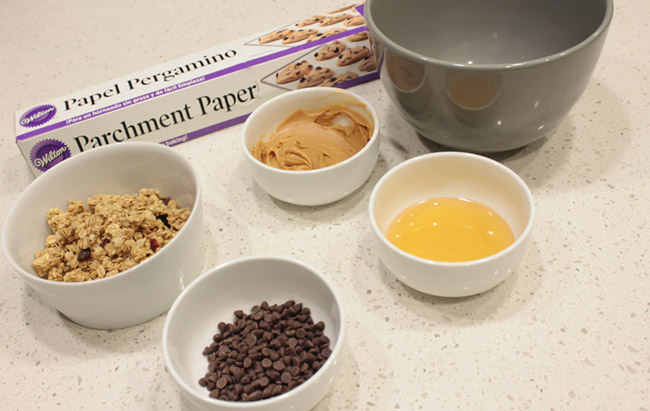 Instructions
1. In a medium bowl, add all of the ingredients and stir to combine well. The mixture should be a bit sticky. Refrigerate for at least 30 minutes.
2. Use a spoon to scoop about a tablespoon of the cookie ball mixture into your hand. Roll into a ball. Repeat with remaining mixture. This should make about 12 granola energy balls.
3. Store the balls covered in the fridge for up to a week, or in the freezer for much longer.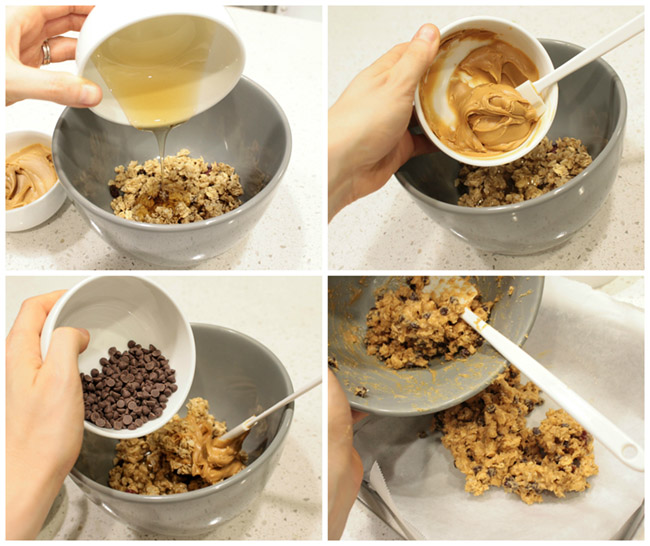 That's it!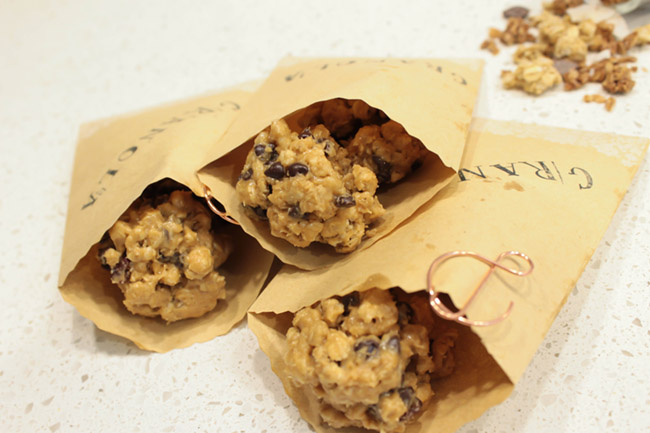 Package them in craft paper bags for a grab & go treat anytime! JOANN has these really cute craft paper bags with a doily detail on them at the bottom and they are as cute as can be. Everyone will jealous of your snack! Be sure to secure the top with something cute too like these ampersand paper clips. Aren't they the cutest granola gift bags?!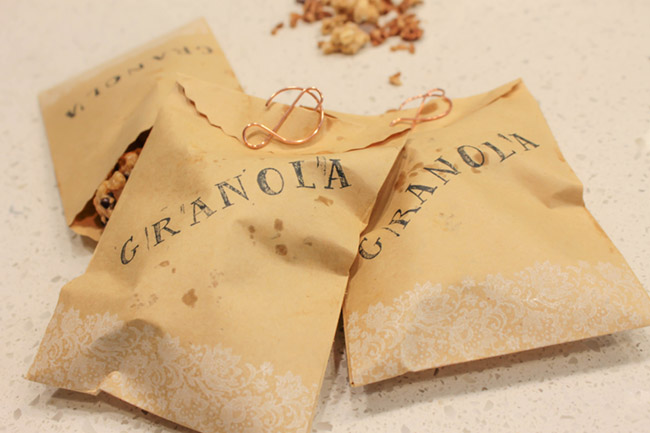 To take it up a notch, personalize them stamps! We love this font on this foam alphabet set. Now you can personalize these sacks for gifts or for snack time! Great for you or the kiddos!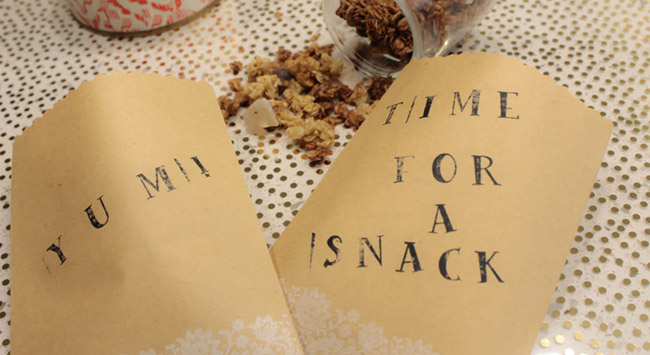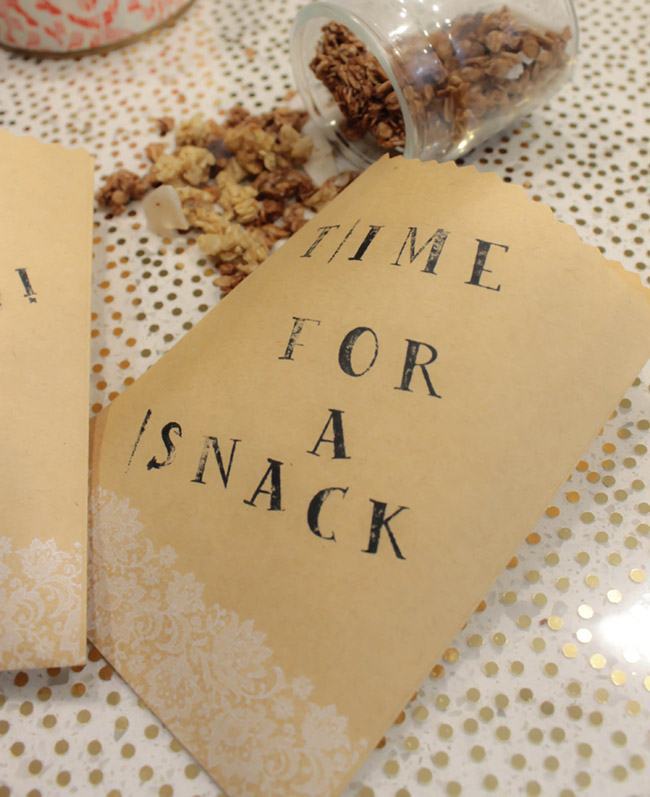 Next up homemade granola & nut bars.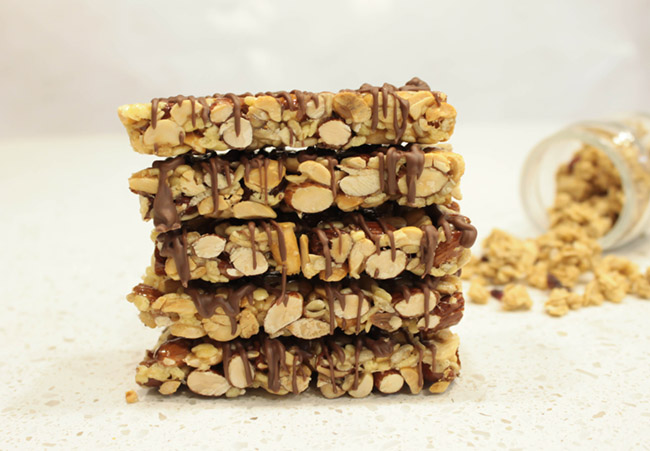 Homemade Granola & Nut Bars
These are a perfect little snack to keep at your desk on take on the run. They are made with different nuts and granola to give you energy and protein throughout the day. Plus they are topped with chocolate so they taste like an ultimate treat! They are soooo YUMMY!!
INGREDIENTS
• ½ cup unsalted roasted almonds
• ½ cup unsalted dry roasted peanuts
• ½ cup roasted chopper walnuts
• ¼ cup granola
• ¼ cup brown rice syrup
• 2 Tbsp honey
• ½ tsp vanilla
• ½ tsp sea salt
• ½ cup melting chocolate
INSTRUCTIONS
1. Line an 8 inch pan with parchment paper leaving a couple of inches on each side that you will use later.
2. In a greased bowl, mix together nuts and granola together and set aside.
3. In a saucepan, combine brown rice syrup, honey, vanilla & sea salt. Bring to a boil, whisking for 2 minutes.
4. Pour syrup mixture immediately over nut mixture and stir to combine. Transfer into the lined pan and spread out evenly, making sure there are no gaps.
5. Allow mixture to cool for about 20 minutes then, using the overhanging parchment paper, take the block of nuts out of the pan and place on a cutting board.
6. Cut into 10 even bars and allow to cool completely before drizzling chocolate.
7. To make the chocolate drizzle, place the chocolate chips in a microwave-safe bowl and microwave in 30 second intervals, stirring each time until the chocolate is melted.
8. Add chocolate to the piping bag and drizzle over the bars. Let chocolate cool.
9. Store bars for up to a week or freeze to save for later for a snack any time!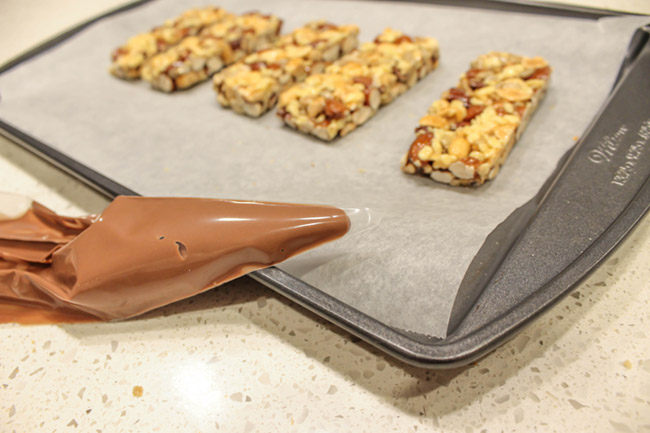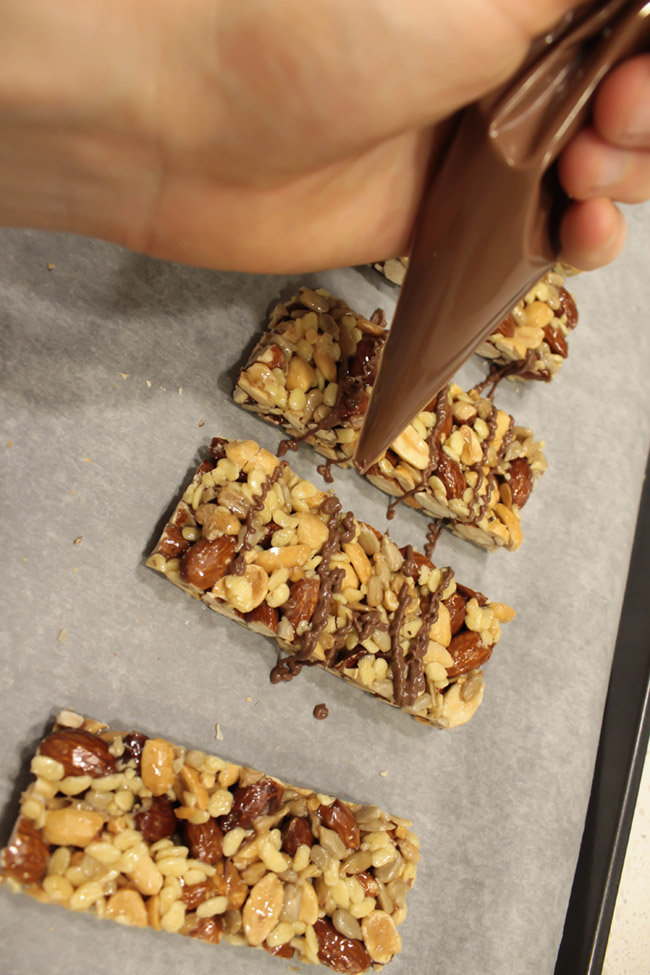 Anything with chocolate drizzle is a win in our book!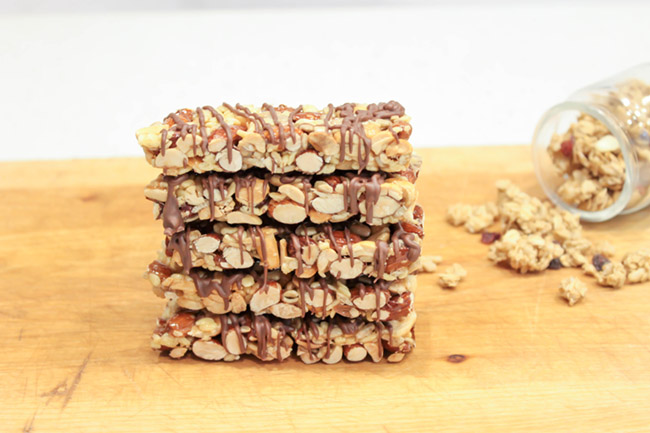 Package these with parchment paper and some bakers twine to dress up your snack or give to a friend!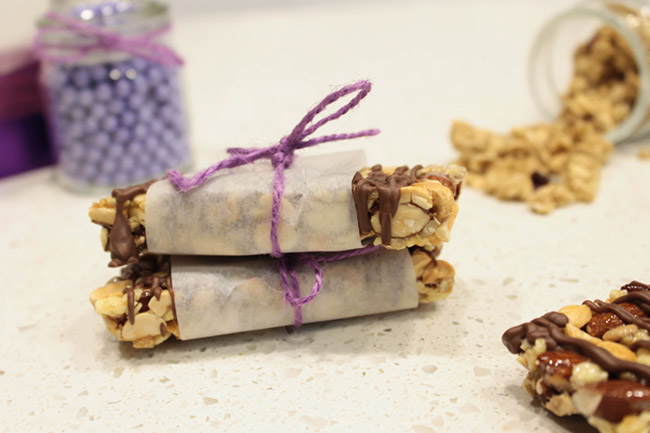 Granola is suck a great snack and it gets even better when it's in cute jar or bag! Just take a look at how delicious and temping granola looks in these darling mini cookie jars.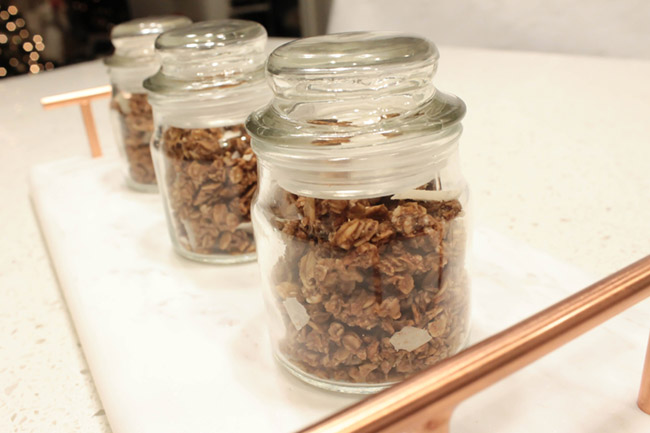 There is no way you can turn down a snack that is as cute as that!
These jars are also make granola a great gift to give too so you can share the love of granola with all of your friends. We know your friends will be gaga over your homemade granola gift!
Add bakers twine and cute made with love stickers to personalize your gift or your jars for your snack.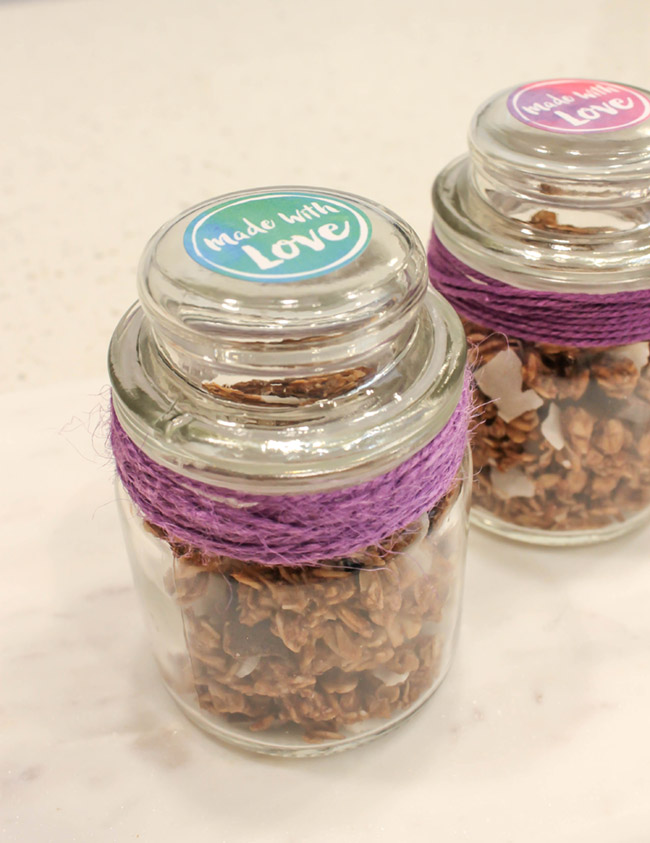 As another cute look for this granola gift, you can also add tags to the jars.