Hey Lovies! We all know you are going through a lot right now trying to navigate Covid-19 while still trying to maintain a somewhat normal life. We feel for you and hope the best for your safety and health. With Things being so crazy right now, we figured it would be helpful to throw together some helpful tips to celebrate while still social distancing. These are fun bridal shower tips but they can be applied to any celebration. Every big life event deserves a celebration of some sort and these tips will help you throw one safely while still enjoying with your friends and family.
How to throw a DIY bridal shower while social distancing
Love this Bridal Shower Brunch set up!
A bridal shower is an important part of the marriage process. This is usually the first opportunity for family members of both the bride and groom to officially meet. With so many options for fun bridal shower games, decor, gifts, and snacks, it can be tough to narrow down shower plans while keeping it within budget and socially distant during the pandemic. That's why we've compiled these DIY tips to help plan the shower of every bride's dreams while keeping guests safe!
Make comfort level wristbands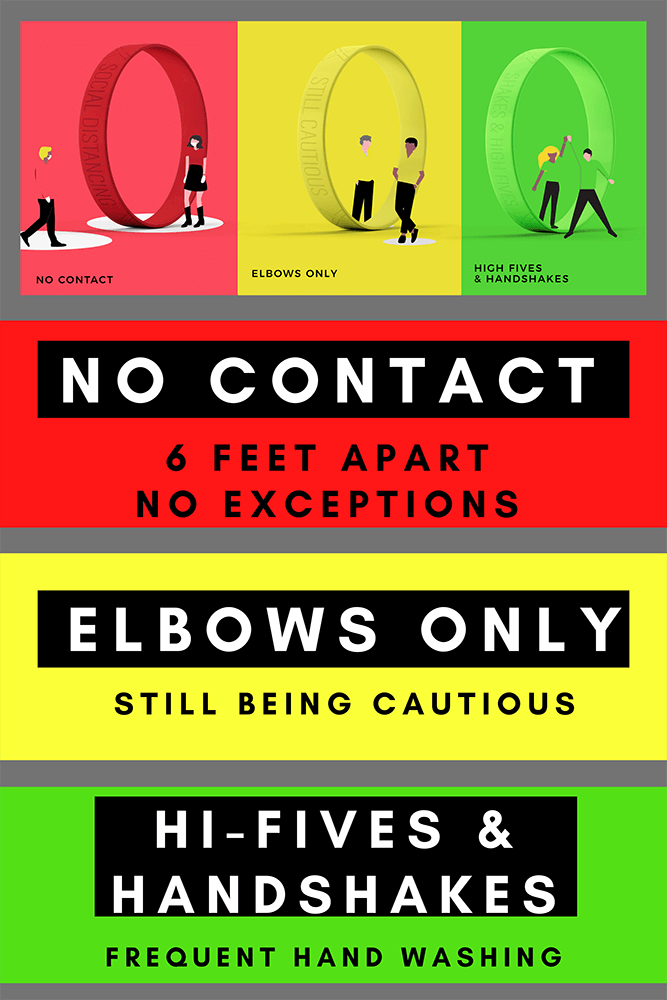 –
Make guests feel comfortable as soon as they arrive by setting out comfort level wristbands or lanyards right by the entrance. To do this, purchase or make DIY red, yellow, and green wristbands or lanyards along with a key that clearly defines red as "I'd prefer if we kept six feet apart," yellow as "I'm okay with elbow bumps, but I'd like to be cautious," and green as "I am fully comfortable with regular socializing." This way, guests don't feel the pressure of having to explain themselves or their comfort levels when it comes to socializing with the coronavirus looming.
Reuse artificial flowers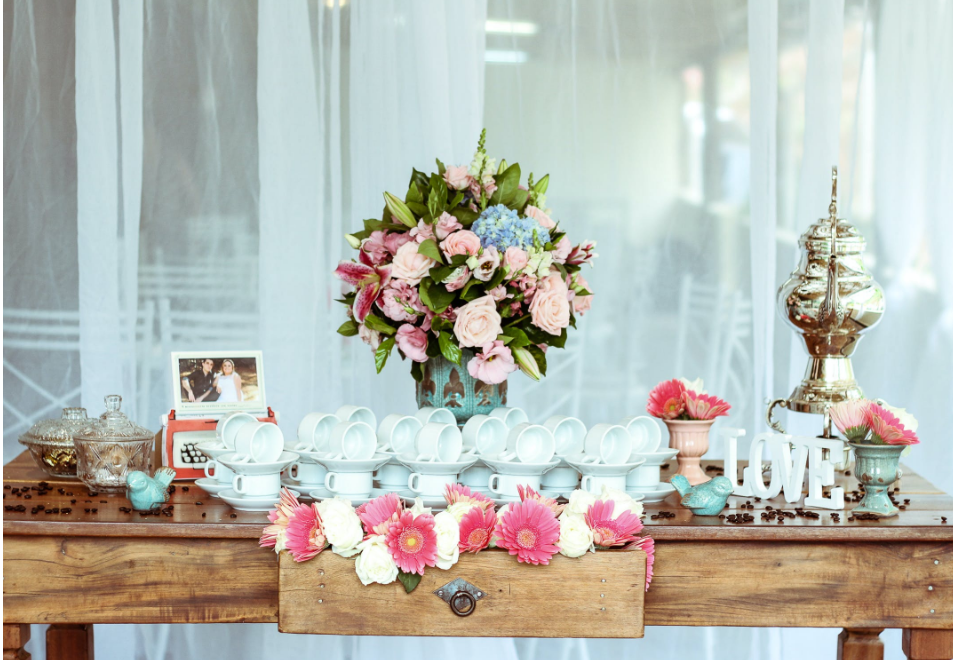 Love this Coffee Bar set up for a Bridal Shower!
The cost of flowers can add up quickly just to lose their liveliness the next day. To save on flowers, consider ordering artificial flowers instead. There are so many lifelike options available for any type of flower imaginable. The best part is that you can use them for all of the wedding festivities, and once the festivities are over, you can use them as home decor or you can sell them on Facebook Marketplace to another bride-to-be! Just be sure to spray them down with disinfectant spray before sharing them with anyone.
Create a cute mimosa bar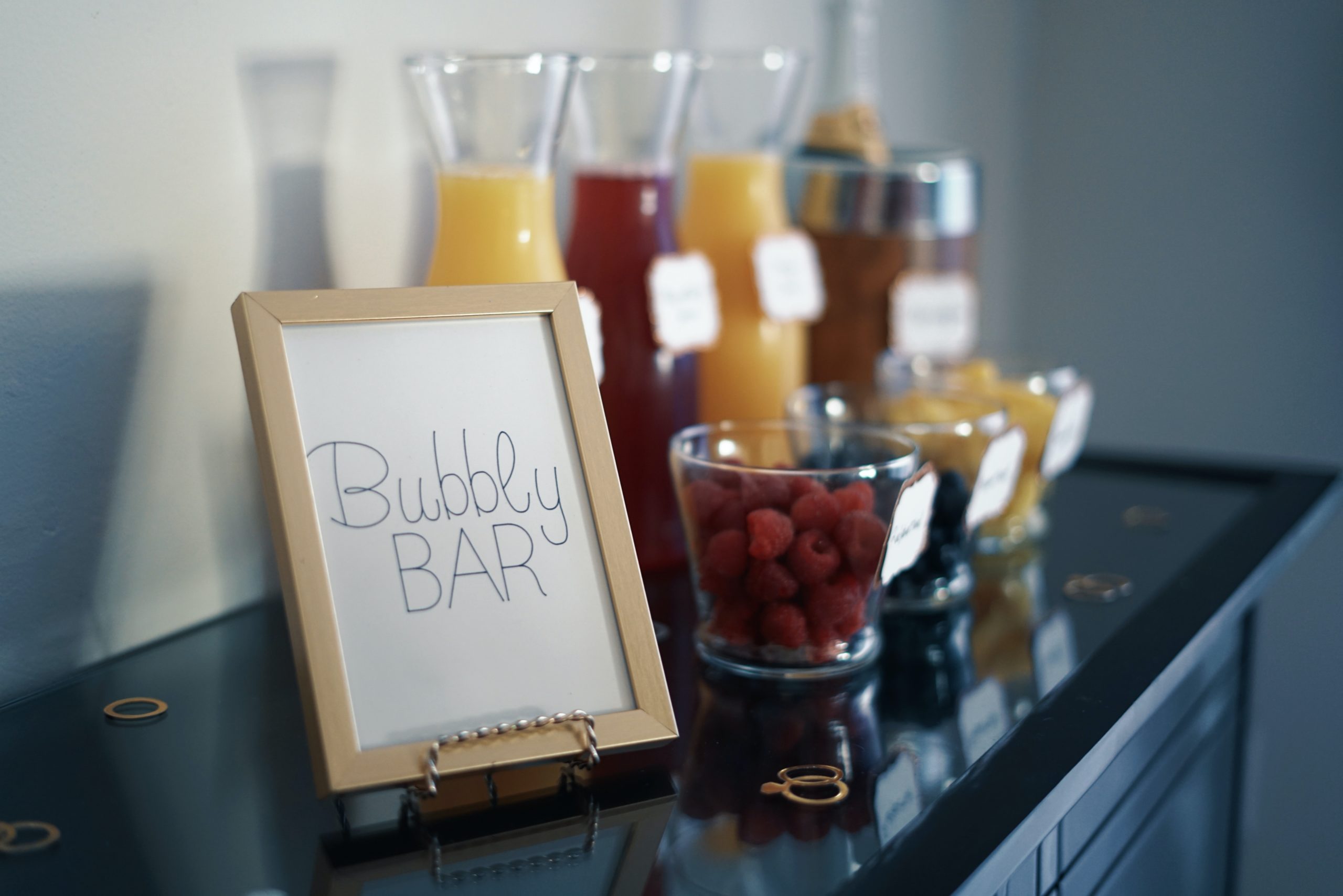 Love a good bubbly bar for a bridal shower!
Every shower should have that one statement piece everyone wants to share on Instagram. For fun and aesthetics, a DIY mimosa bar is a surefire way to keep your guests satisfied while bringing the "wow" factor.
Though it may seem like a daunting task at first glance, it's really quite simple! First, set up a table with a pretty tablecloth. Next, set out some cute champagne flukes– you can find them for a dollar each at your local dollar store! Make it easier on yourself by getting the champagne and any other alcoholic beverages delivered to your door to avoid having to make an additional stop. Set the bottles out in cute buckets filled with ice along with small bowls with different fruit toppings. Add any additional flowers, banners, garland, or confetti you'd like to the table and voilà– the perfect mimosa bar!
To prevent the spread of germs around the mimosa bar and ensure that everyone stays germ-free around the mimosa bar, request that guests hand sanitize before pouring a drink or scooping fruit into their fluke. You can also purchase or DIY wine glass charms that each person can put on the stem of their mimosa to limit confusion over which glass belongs to who.
Simple Favors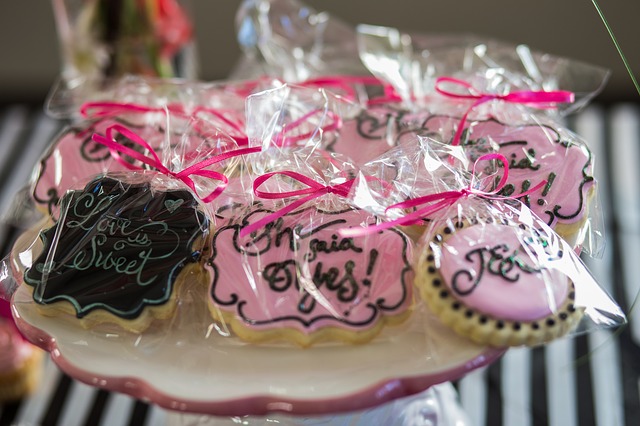 Love these fun bridal shower cookies!
Just like flowers, party favors can add up quickly. While it may feel like the pressure is on to make a grand gesture, there are plenty of creative and fun ways to thank your guests without having to break the budget.
Here are some simple, easy, and affordable DIY ideas:
⦁ Goodie bags with sweet treats
⦁ Tic Tacs or other mints
⦁ A candle
⦁ A small succulent
⦁ Small mason jars with homemade jam
⦁ Baked goods individually wrapped with a bow
For an added touch, print custom labels with the bride's name and wedding date and stick one on each favor! To encourage social distancing, consider providing customized masks or mini hand sanitizer bottles as shower gifts.
A bridal shower is typically the first celebration to kick off wedding festivities. Make it one to remember for your special bride-to-be by implementing these super easy and affordable DIY tips!