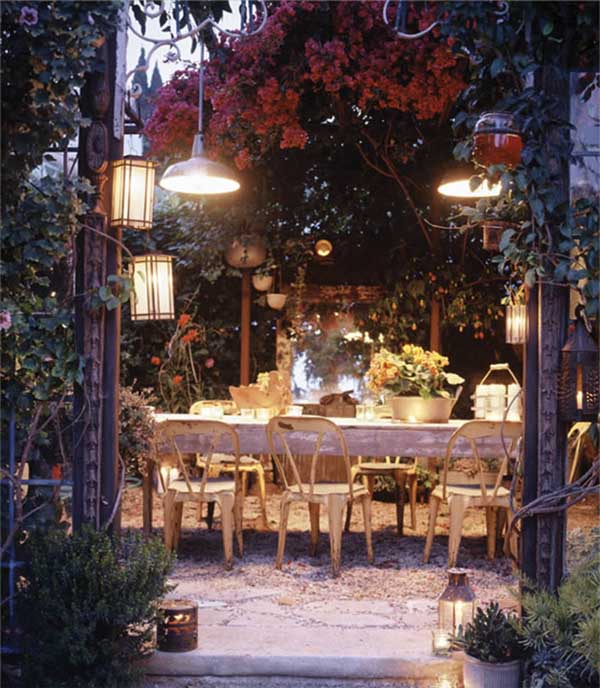 Lovelies! We have a lovely guest post for you today that talks all about how to pretty your patios for parties! As the hot summer days come to a close and the coolness of fall sets in, there is no better time to get with friends and family and celebrate the changing of seasons with a little vino and yummy food. Ash Stevens talks about how to make your patio top notch for next to nothing in spend!
Prettier Patios For Parties
The warm evenings of summer and fall are the perfect excuse for fun with friends and family. The yard is practically begging for a BBQ or potluck, but the eyesores around the yard have us cringing at the thought of inviting people over. Don't let your sore spots stop you from these last few weeks of summer fun! You can make your patio parties more charming than ever, and it will cost you next to nothing in time and money!  
Mud Hole Turned Pathway
Try as we might, there are parts of the yard that will never be anything more than mud. They're a blackhole of slurpy muddiness that's a guaranteed magnet with kids and dogs, so that can leave us feeling pretty anxious and embarrassed when it comes to BBQ's. Plant's may not take in that muddy corner, but there's another solution. Transform a wood pallet into an instant pathway!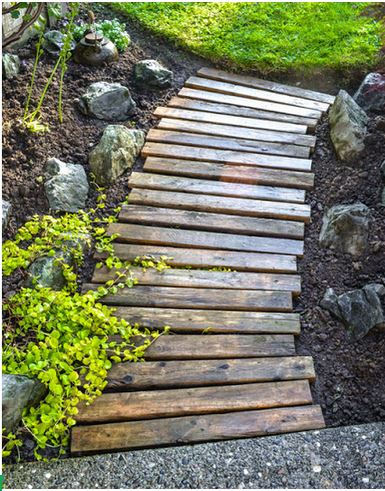 If pallets aren't your thing, then put some old logs to work. If you don't already have a woodpile on hand, there's always people looking to get rid of their old leafy landscaping on Craigslist. You can keep it simple by slicing up some logs, or you can kick it up with sealant and a path base.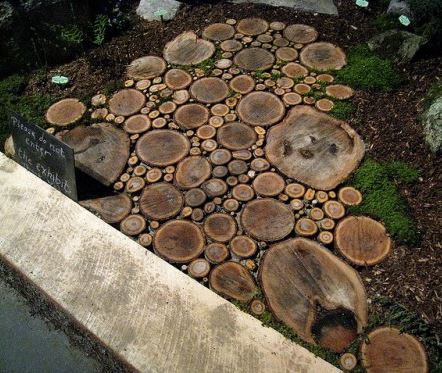 A natural work of art with great hopscotch potential…
From Trashy to Classy
As unattractive as they are, trash cans are a necessity for our patio parties. It used to be that we had to find a corner to tuck them away in, but now there are creative and inexpensive ways to camouflage them. Do it right, and you can even make it a part of your decor!
Here's another pallet creation that was designed to be an indoor recycle bin, but a covered patio would be a perfect candidate for this classy little bin. Add wheels and it can serve your outdoor needs on demand!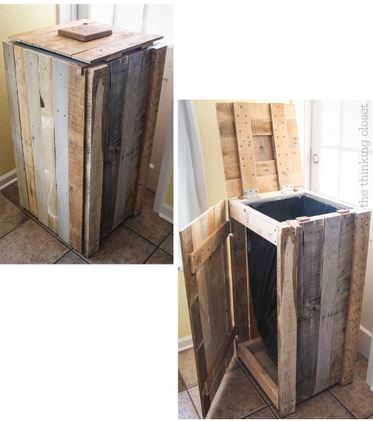 A rustic makeover
Hide it all Behind a Wall!
Proud homeowners everywhere have had to suffer the aesthetic pains of utility meters, crude piping, enormous trash bins, and shoddy sheds. Yes, painting them will make them stand out a little less to others, but they'll always draw our steely gaze. Get those eyesores outta sight with a little handiwork and creativity! Wood pallets are just the quick, cheap fix for the job!
This lovely little gem was created to hide that helpful yet unattractive shed on the side of the house. This garden wall is a sturdy fixture thanks to secured posts, so it can handle plenty of creative pots, hanging candles, and other decor. Whether you go modern, rustic, or chic, it's only a matter of vision and imagination. If you're looking to spare yourself the sweat of digging posts, then consider making a standing wall, or make it mobile by drilling in a pair of wheels.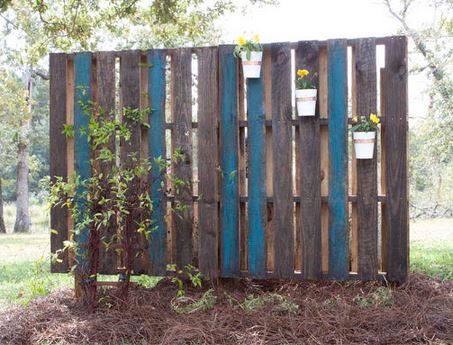 A wall for plants, candles, decor, and more!
Turn a pallet into a planter that will take the spotlight away from those utility fixtures! A freestanding planter will become the focal point of your yard while still allowing access to meters for their regular readings. You can easily turn a pallet into a wall, shelf, or trellis that will steal the show from those outdoor eyesores.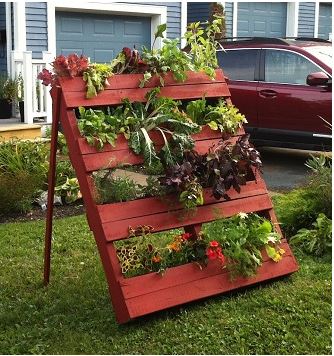 Leafy, mobile camouflage!
Yard Hazard Be Gone!
Those patio parties wouldn't be as lovely as they are without the old garden hose, but come party time, they need to disappear. Take one of these simple fixes and you won't have to hide that hose in the garage come party time.
If you're making a pallet wall to hide fixtures along the walls of the house, then don't forget to pick up some screws and a bracket. A quick drill job will have your hose neatly hanging and tucked away.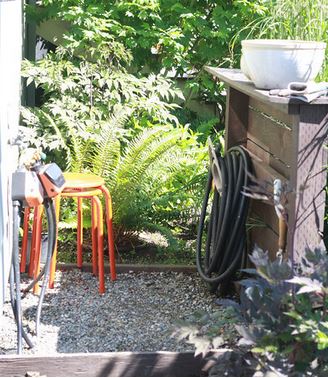 Outta sight, outta mind!
If you're looking for an instant and classy edge for your yard, then look no further. Hose holders have gone from bulky plastic to artsy steel. You can find designs and colors that will put all kinds of yard themes. Even better? Their sturdy metal design makes them resist to the weight of our hoppy, climbing little ones.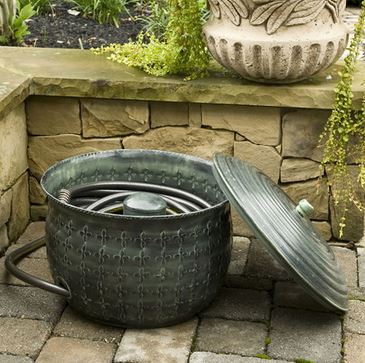 Steel Hose Holders – Classy, durable camouflage
The Frosting on the Cake
Now that you've swapped out those pesky zones for appealing decor, why not add some charm to the patio with those old mason jars?
Hanging candles  add a touch of charm and romance that delight adults and children alike. Jars can easily be converted into hanging candles with twine or wire, and they can be hung from trees, fences, patios, and wherever else they may safely burn from dusk to twilight.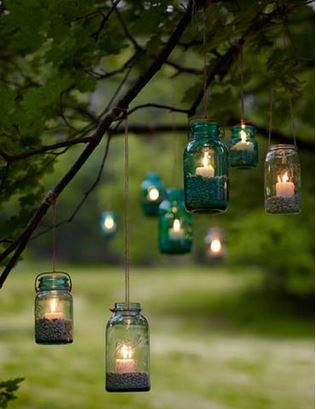 Simple, thrifty, and positively charming
If you have children coming, then you'll want to stop at the supply store. These are a guaranteed hit that will only cost you a bottle of glow in the dark paint (and glitter for our girly-girls). Add some fun to the evening by setting up a little craft station where kids can make their own. Let the jars soak in some sun and, come night time, you'll have magical fairy lights and oodles of giggles.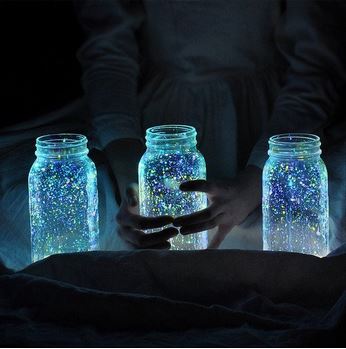 The patio lighting of choice for kids everywhere!
Party Time!

Now it's time to get to work! Get in on the joy of the last weekends of summer and show off your new creative additions. School is back in session, and it's a perfect excuse for celebration!
-Ash Stevens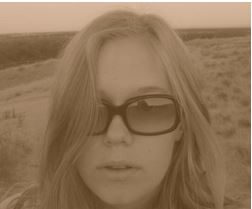 Ash Stevens is a mother, gardener, writer, and a fan of all things green. Her love for health and sustainability began with her journey into motherhood, and it's grown exponentially ever since. She's passionate about living a healthy lifestyle through gardening, cooking, and spending time outdoors. If she isn't writing or reading up on exciting green trends, she's probably playing Connect Four or swimming in the river with the kids