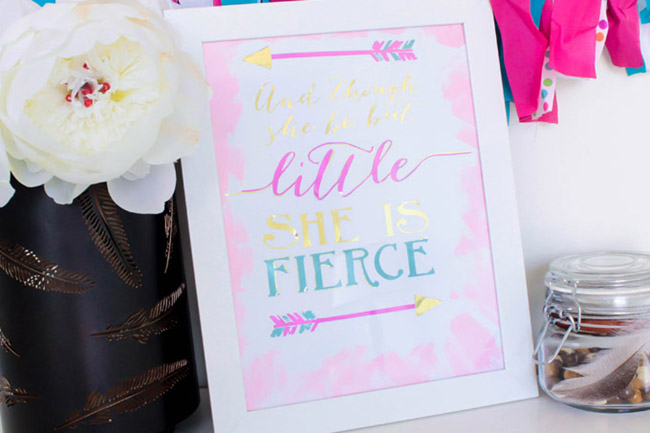 Cricut® came out with some new foil adhesive papers, and we am totally in love! Gold foil is such a lovely detail and now with these new adhesive papers, you can literally add gold foil to anything! We are going to show you how to make this lovely yet fierce calligraphy quote DIY gold sign. This quote, "And though she be but little, SHE IS FIERCE" is so inspirational and looks fabulous in gold, pink and teal metallic foil. It's a nice reminder to keep going even when the going gets tough. Plus we love calligraphy quotes and signs, and this is a great one. Let's get to this amazing DIY gold sign that is so easy to make.
What you will need for this calligraphy DIY Gold Sign:
• Cricut® Machine
• Cricut® Adhesive Foil Sampler Metals
• Cricut® Adhesive Foil Sampler Royal
• Cricut® 12"x 12" Cutting Mat
• Cricut® Basic Tools Set
• Cricut® Big Scraper
• 8 ½" x 11" Cardstock Paper
• 8 ½" x 11" White Frame (available in-stores)
• Rose Pink Paint
• Sponge Paint Brush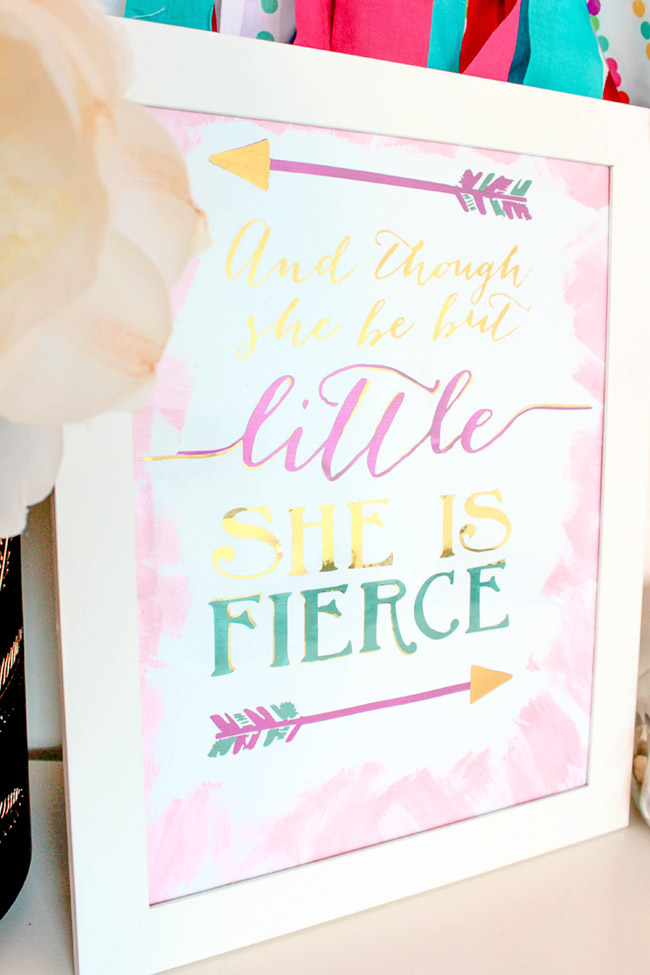 Step 1
Save this JPG of "she is fierce" quote to your computer. You can also pick any favorite quote that you have, just make sure the image is black and white to make it easier to cut in the Cricut®.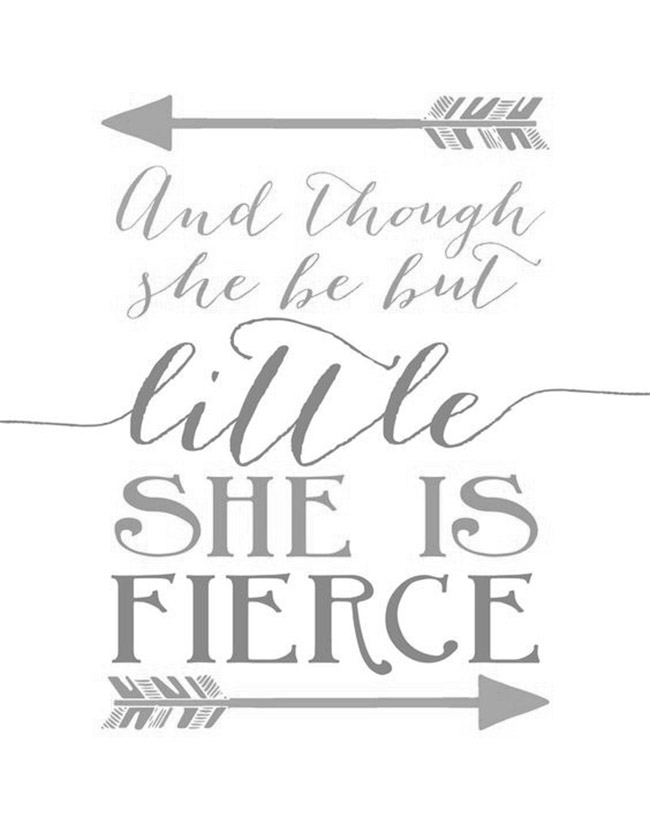 Step 2
Start a new project in you Cricut® design space and add the new photo. Upload the photo and click the simple image. Click all of the white parts of the photo to remove them (even the small white parts that are in the letters!) and only leave the black letters and arrow. Save it as a cut image.
Step 3
Make your image 8 ½" x 11" and go to cut it on the Cricut. Be sure to follow the foil's directions for cutting blade adjustments. With my Cricut® Explore, the custom setting was added and you use adhesive foil option.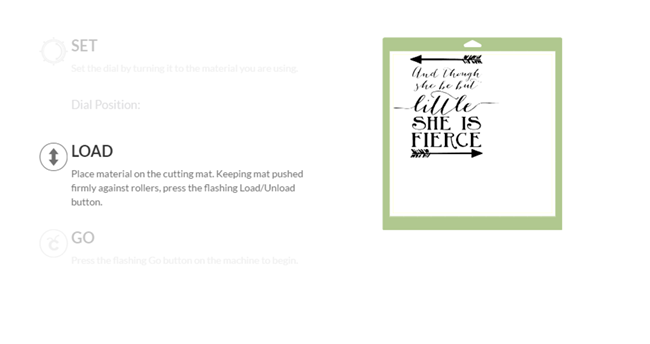 Step 4
Add the gold foil to a Cricut mat. You will have to cut a 12"x 12" square yourself. Be sure to remove any bubbles under the foil and lay it as flat as possible.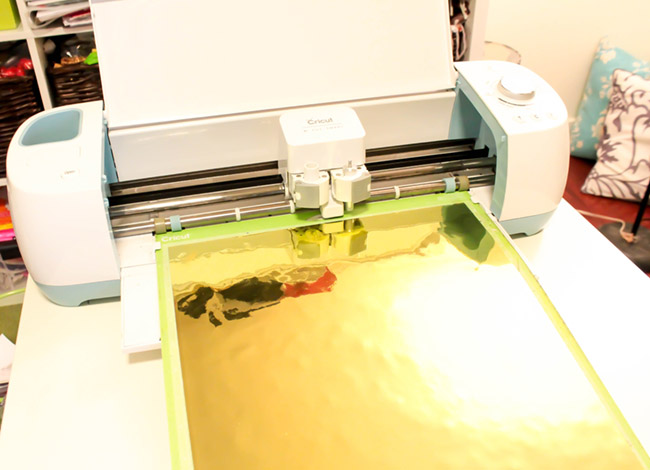 Step 5
Hit the Cricut cut button once it is all ready to go and let the machine go to work. It's amazing how precise it is!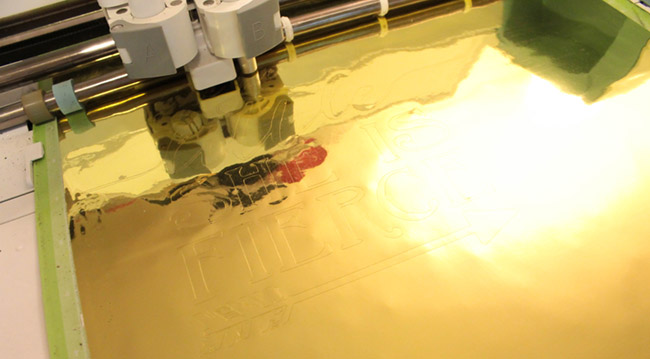 Step 6
Weed out the cut gold foil quote letters from the foil paper with help from the Cricut weeder.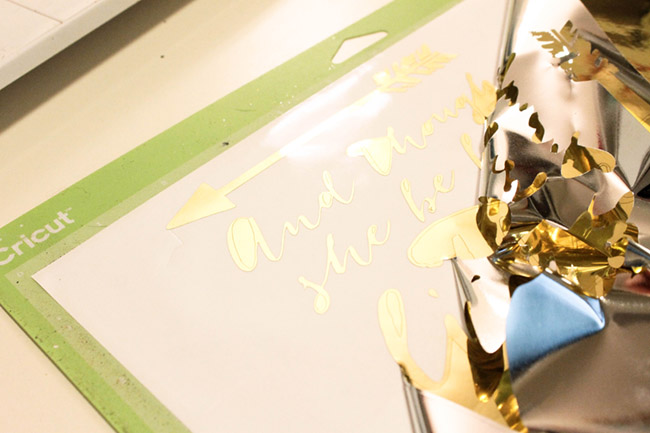 Be sure to get the extra foil between the letters too.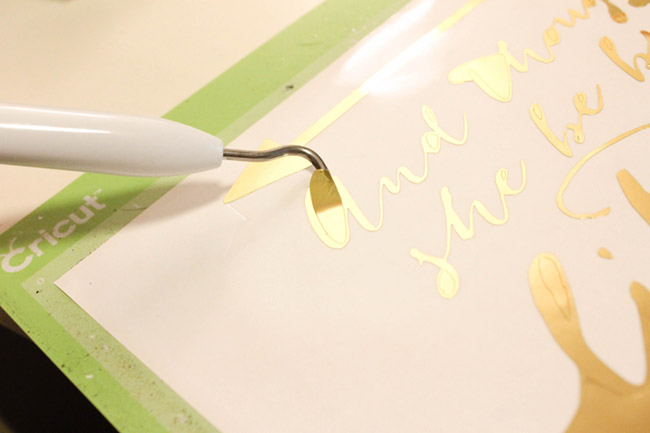 After all of the extra foil is removed your foil sign is ready to be transferred!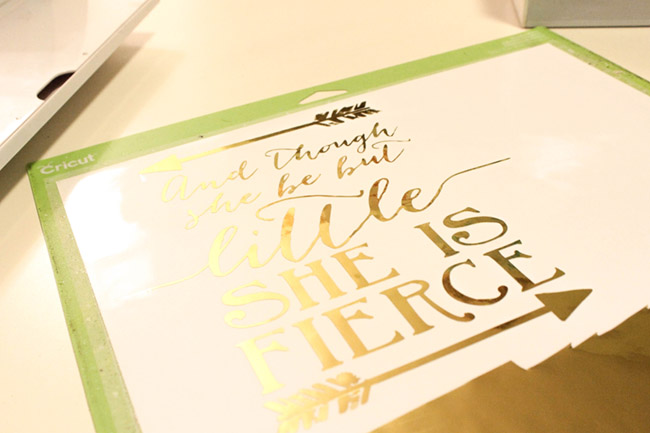 Step 7
Add Cricut transfer paper on top of the foil letters. It is helpful to use the new Cricut big scraper to cover a large area at once.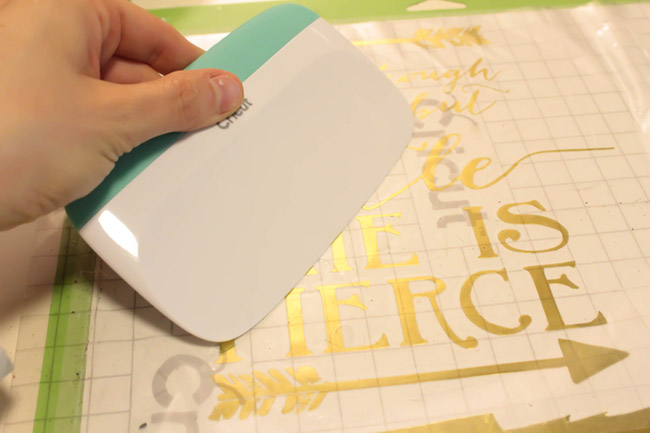 The letters can be a little tricky to lift off and fully stick to the transfer paper. I used the scraper and a diagonal motion to help lift the entire quote up together.
If you want to make the sign just like mine, don't transfer the arrows, just the quote. The arrows will be cut from pink gold foil adhesive paper later.
Step 8
Once the quote is fully on the transfer paper, you can put it wherever you desire! I love having mine in a nice white frame so I transferred it on some 8 1/2" x 11" cardstock to put in a frame.
Be sure you map out exactly where you want the quote to go before you lay it down because once you lay it down, it's not going anywhere!
Step 9 & 10
Repeat steps 4-8 with pink and teal foil adhesive paper.
Use the pink foil to make the arrows and add Little on top of the gold you already transferred and placed on the paper. (It gives it a lovely shaded look)
Use the teal foil to add flair to the arrows, and add "Fierce" on top of the gold you already transferred and placed on the paper.
*Note: To add the teal feather flair to the arrows, cut the small feather details from the main arrow image cut and then place it on the placed foil sign.
Step 11
You can leave it at that and say this is great! Or you can add some more lovely details to it like the rose pink paint brush detail I added to my quote sign.
Just take a small dab of paint and with a sponge brush, just use small strokes to covers the edges of the paper.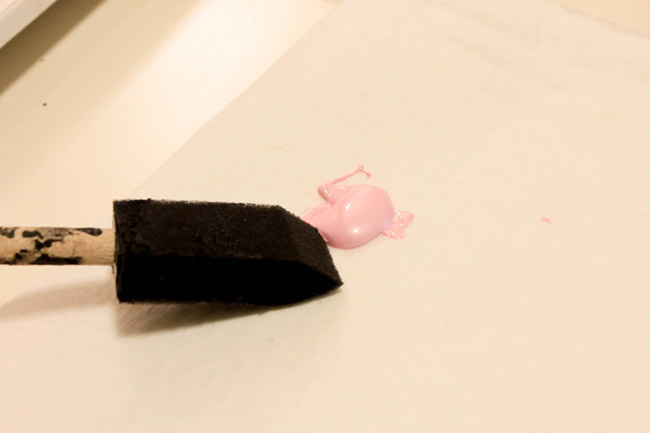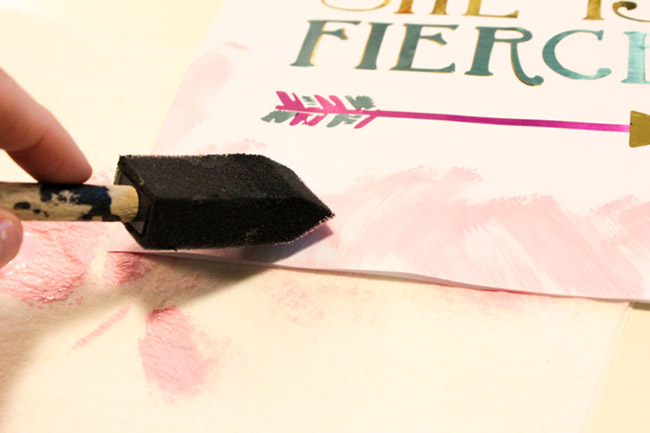 Be sure to lay a paper towel or cloth under your sign to catch the extra paint strokes when you are doing this.
Step 12
Let the paint dry and then add to your favorite frame. Let your "and though she be but little she is fierce" sign shine!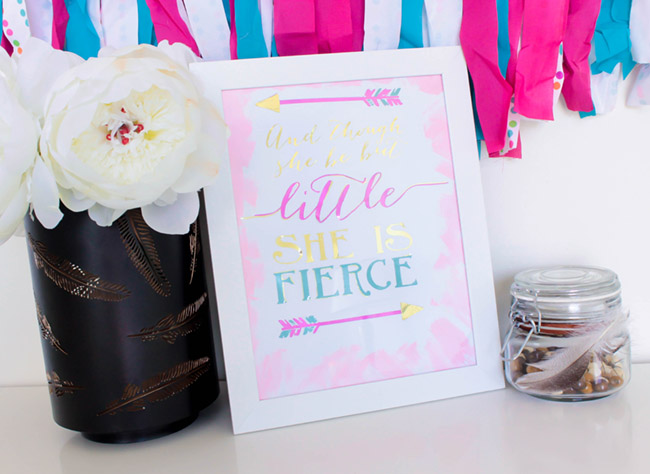 We totally love this gold, pink and teal DIY quote sign. It's so inspirational and really gives you a quick pick me up when you are feeling down or stressed. We added this lovely DIY gold sign to our office so we can see it and let it shine every day.
We would love to hear where you ended up putting your quote!